5 Things We NEED To Know Before Poldark Series 2 Ends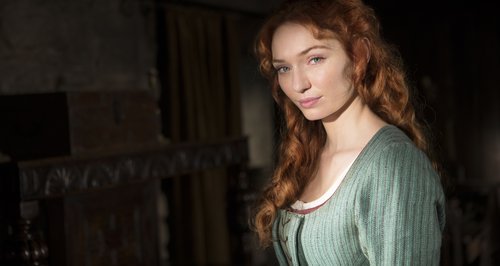 Can you believe it's the last one in the series and we've still got so many unanswered questions!
The second series of Poldark has kept us hooked for almost 10 weeks now, causing our Sunday nights to be feeling with sadness, delight, frustrations and fury (we're looking at your Ross).
As the series draws to a close, what with the final episode to be aired on Sunday 6th November, we've still got so many questions that NEED to be answered before the end. We're not sure we can wait another year before finding out if all has been resolved.
Will Elizabeth help George Warleggan ruin Ross Poldark?
Our feelings for heroic Ross (Aidan Turner) have dramatically changed when he gave in to his passions and spent the night with Elizabeth (Heida Reed). Understandably Damelza (Eleanor Tomlinson) was fuming and packed a fair punch but we also need to pity Elizabeth. She was in a pretty dire situation, with no money and no husband to bring home the bacon. And then Ross "took what was not his" and left her to fend for herself, meaning that she had no choice but to marry George (Ralph Bates).
If we'd been left with false hope by a man like Elizabeth, we know that we'd want to seek revenge. And now she's married to George, will she change her tune and help him make Poldark's life hell?
Is there hope for Elizabeth and Damelza?
Even though Damelza knew that Elizabeth was Ross' first true love, there was a time when the women were friends. We know from the sneaky preview at the end that the women meet but what will they say to each other? Will Damelza take the moral high-ground? Will Elizabeth apologise? Will they ignore each other? We have so many questions!
Is it too late for Ross and Damelza?
It doesn't seem so long ago that we were looking at Captain Poldark and his fiery red-headed wife with relationship goals, now we're asking the same questions as Ross: "Has it come too late?" There's part of us that wants Ross to realise that he can't have everything that he wants but also we want to see Damelza happy again. We just don't know.
Will Ross ever make any money?
It's a question that we've been asking ourselves since the beginning of series one and we're yet to see the returns for all of his investments. However, at the end of the last episode Ross' financial woes looked like they could be taking a turn for the better with the discovery of copper in Wheal Grace.
But we've been here before so we're note getting our hopes up.
Will Dwight and Caroline ever get together?
Aside from the Damelza-Ross-Elizabeth triangle or the Ross-Elizabeth-George fiasco, the Dwight Enys and Caroline Penvenen romance is also crushing our hearts. Despite her vow to depart from his life, will they rekindled their love in the final episode?
Don't forget to tune in to the final episode of Poldark on BBC One at 9pm on Sunday 6th November.