Britain's Got Talent Gymnast Secretly Starred On THIS Soap
Julia, who pulled at heart strings after revealing she will never be able to dance again, appeared on a popular soap before finding fame.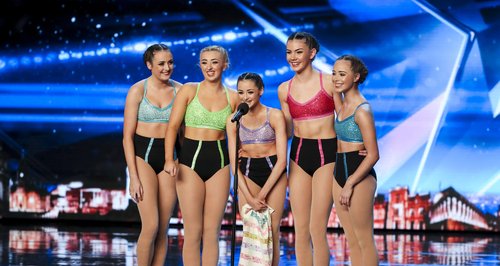 Viewers were left stunned on Saturday night when all-girl dance group, Just Us stormed the stage with a show-stopping gymnastics routine.
It wasn't just the fans at home who were left impressed either, as the energetic five-piece received a standing ovation from judges Amanda Holden, Simon Cowell and David Walliams, while Alesha Dixon pressed the golden buzzer which automatically guarantees them a place in the live shows.
Throughout the mesmerising routine, all eyes were on Julia, who pulled at heart strings after revealing she will never be able to dance again as she was born with a curvature of the spine which requires surgery.
She told the audience: "I have scoliosis, but what I have is very rare because you usually get it from an accident but I was born with it. So I have to have an operation and after that I won't be able to dance again."
Play
Just Us perform on Britain's Got Talent
00:48
However, it's not the fist time Julia has been seen on television.
The talented gymnast has appeared in Channel 4's soap Hollyoaks.
Yep! According to her latest credits on talent agency website AllStars Casting, the youngster was on the show in 2011 as a school girl and was back on there again in 2012.
Julia also showed off her talents when she appeared on BBC's Stepping Up in 2012 and The Mill a year later.
Meanwhile, Just Us revealed they would be donating some of the £250,000 cash prize towards the costs of Julia's surgery should they win the popular talent competition.
Nice to see you, see you... nice!
Emma Bunton had a tattoo tribute to her fiancé inked on her finger while on a night out.