We Asked YOU To Pick Ross Geller's Most Hilarious Moments And Here They Are!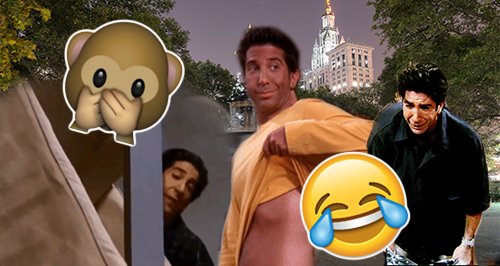 These are officially Ross's most ridiculous friends moments - 12,000 of you can't be wrong! See if your top moment made the cut...
When it was revealed by Comedy Central that the nations most beloved friends character was Ross Geller we decided to do a little research of our own!
We asked Heart readers to pick their favourite funny Ross Geller moment from Friends and now the votes are in.
Over 12,000 people had their say and here are the results...
8. The One With The Holiday Armadillo - 1%
The smallest portion of the vote went to the the festive figure that Ross invented in Season 7 to teach his son Ben about his Jewish heritage.
Ross discovers that all of NYC's fancy dress shops were out of Christmas costumes so close to the big day but so was forced to rent a hilarious Armadillo before getting his thunder stolen by Chandler who managed to find a Santa costume!
7. Ross's British Accent - 3%
In an episode called 'The One Where Joey Loses His Insurance' Ross bags a lecturer job at a university.
In a moment of panic and in fear that his students will find him boring he puts on a fake British accent, before Rachel and Monica turn up and bust him!
We prefer your usual accent Ross! LOL!
6. The One With Ross's Teeth - 6%
Monica sets Ross up on a date and he decided to whiten his teeth for the occasion....a little too much.
It turns out he left the whitening gel on for too long, a WHOLE DAY!
That sparkly grin had us rolling on the floor laughing!
6. The One With Unagi - 7%
Phoebe and Rachel take self defence classes and feel confident that they can combat any attacker that comes their way but Ross isn't convinced.
He tells them he trained in Karate and tries to explain something he learnt called 'Unagi' but it all sounds pretty fake...in fact Phoebe points out its actually a type of sushi.
But in classic Ross style, he's SOOO serious about it and spends the whole episode trying to catch the girls out with his Unagi skills.
'DANGER, DANGER!!!!!!!'
4. We Were On A Break! - 10%
Ross's infamous catchphrase can't be pinned down to one moment or episode but we think it gets funnier every time he says it - and you guys must think so too as it's in 4th place!
The 'break' Ross is referring to is the time that Ross gets up to some cheeky drunken antics with another woman while he and Rachel were taking some time apart and not officially broken up.
This leads to him shouting his infamous catchphrase whenever it gets brought up! This is our favourite 'WE WERE ON A BREAK' moment...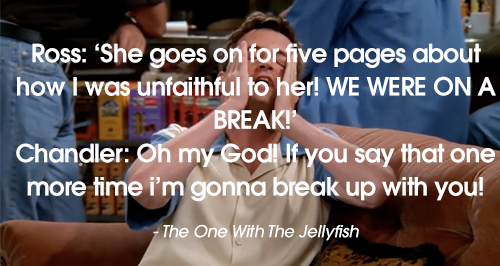 3. The Leather Trousers - 13%
This hysterical Ross moment is from a Season 5 episode called 'The One With All The Resolutions'...and Ross's resolution to try something new everyday ends up having some sticky consequences.
As his 'something new' Ross buys a pair of leather trousers, but whilst on a date he needs to take them off to cool down...and can't get them back on.
This leads to a hilarious moment in the bathroom with LOTS of talcum powder, our stomachs hurt so hard from laughing after that episode that's for sure.
2. The One With Ross' Tan - 26%
In a respectable second place is a Ross moment that needs minimal explanation!
Jealous of Monica's spray tan, Ross goes to get one for himself but keeps turning at the wrong moment at the salon. He soon ends up being extra tanned, but only on the front half of his body...
and in first place......
1. 'PIVOT!!!!!' - 34%
With a whopping 34% of the vote, the winning Ross Geller moment can only be this...
It's officially now impossible to move ANY furniture around the house without a Ross style PIVOT! being yelled.
Ross Geller, thank you for bringing us so much laughter, we salute you!