The Fall: The Story So Far And A Look At What's To Come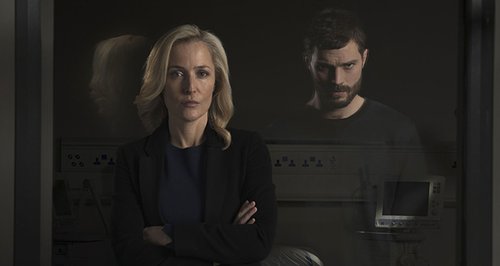 The Fall is back for series three and there's a VERY special cameo appearance in the second episode. Let's just say it's all in the family for Jamie Dornan...
Unless you've been living under a rock, you'll know that the highly anticipated BBC Two drama, The Fall, is back for a third series.
There's no doubt that The Fall poses confusing questions for Fifty Shades of Grey fans, who are in love with Jamie Dornan's hollywood character, Mr Grey. A far cry from Anastasia Steele's lover, Jamie Dornan plays sexually motivated killer, Paul Spector. He's hunted by DSI Stella Gibson (played by Gillian Anderson), where an unnatural and uneasy bond comes between them.
Jamie Dornan got the shock of his life when this professor appeared for a cameo role in 'The Fall' series three, episode Two!
It turns out Jamie Dornan isn't the only actor in his family! Jamie's dad, retired obstetrician Professor Jim Dornan, managed to bag himself a sneaky cameo role in the second episode of The Fall series three...and Jamie had NO IDEA!
Professor Jim will appear as Policing Board member John Porter in the episode of the crime thriller series in which his son plays the big baddie.
He told Sunday Life: "It was the writer and producer Allan Cubitt's idea. I met him socially and he asked me to take part in The Fall. He really wanted me to do it for Jamie. Jamie had finished filming and he had no idea I was going to be in it. It came as a real surprise to him when he found out."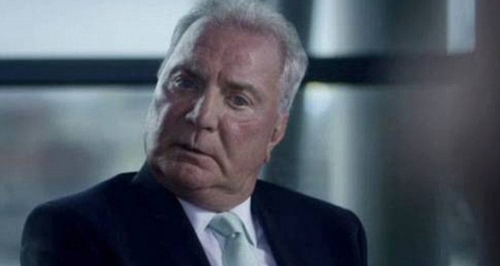 Errrrr, no kidding! Can you imagine if your mum or dad just rocked up to your office one day, sat down and starting tapping away at the nearest keyboard!
Professor Jim certainly didn't have it easy on set, especially as the only line he had to say is a real tongue twister!
He says: "Can the Assistant Chief Constable please provide us with an update on the progress of the Operation Music Man taskforce?"
Wow, try saying that ten times fast.
Everything you need to know about The Fall
If you've not watched any of the series so far and your sense of curiosity has gotten the better of you, here is our break down of every episode so far. After you've read this, you'll be ready to watch episode two of series three which will be aired on Thursday 6th October 2016.
Series 1: Episode 1
Set in Northern Ireland, an unsolved murder unnerves the whole of Belfast. After 28 days of investigation, DSI Stella Gibson is called in to review the case. She's hooked and so are we.
Series 1: Episode 2
DSI Gibson's fears are realised as Spector's killing spree continues and she faces the consequences of a reckless decision.
Series 1: Episode 3
Taking control of the hunt for woman-killer Spector, DSI Gibson is spurred on by the chase. After realising that his perfect kill has been tainted, Spector searches for his next victim.
Series 1: Episode 4
Gibson feels the pressure as Belfast's fear killer still hasn't been caught.
Series 1: Episode 5
The series finale saw Spector's latest attack give Gibson a new lease of determination to continue the hunt. Just when the net appears to be closing in on Spector, he makes a confession that ties his fate to Gibson's.
Series 2: Episode 1
Gisbson's hunt for Paul Spector continues. He hides in plain sight which spurs her on.
Series 2: Episode 2
While Spector still stalks the streets of Belfast for his next victim, Gibson realises that her mistakes may have put the life of witness Rose Stagg in danger. Police step up the investigation.
Series 2: Episode 3
The investigation sees a vital breakthrough which shows Spector is the killer but Gibson is forced to play the waiting game. Her actions bring her closer to the killer but almost jeopardise the case.
Series 2: Episode 4
After Gibson's close encounter with the Belfast murderer, a shocking revelation forces her to realise just how manipulative Spector really is.
Series 2: Episode 5
AS the investigation tightens around the murderer, he makes a break for cover. However, his recklessness is catching up with him and the consequences are deadly.
Series 2: Episode 6
Paul Spector is in custody and DSI Gibson uses the opportunity to desperately search for Rose Stagg. However, Spector is still doing all he can to stop her locking them in a deadly duel. The series ends in a dramatic finale where Spector is shot.
Series 3: Episode 1
Paul Spector's fate is still in the hands of the doctors, but more mysteries unravel and we're still perplexed about what's to come.
There you are, you're all caught up. Tune in to series 3: episode 2 this Thursday.