WATCH! Tess Daly Can't Hold Back Laughter As Claudia Winkleman FALLS On Strictly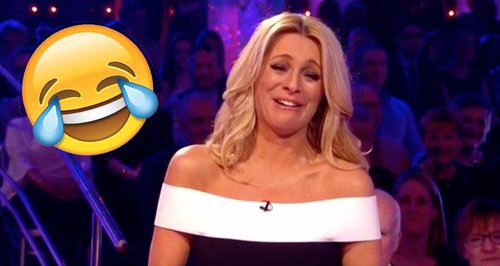 Strictly Come Dancing host Tess Daly lost her normal composure when co-host Claudia took a hilarious tumble...
Tess Daly is normally cool, calm and collected but she just couldn't hold it together on the weekend!
The star host just HAD to laugh during Saturday night's Strictly semi-final when Claudia took a hilarious tumble as part of a silly comedy sketch.
You can see the fantastic moment in the video below...
Anything can happen on live TV, can't it @ClaudiaWinkle @TessDaly? #Strictly https://t.co/Kzd4zLOEDm

— BBC Strictly (@bbcstrictly) December 10, 2016
The duo were larking around just before Tess had to introduce Louise Redknapp and her dance partner Kevin Clifton. When Tess mentioned that an upcoming dance by Danny and Oti would feature 'a lake', Claudia suggested she had been fishing there and could be seen clutching a rod!
Tess told her: "Every time you go near a prop and let it go it's a disaster!"
Fortunately, Claudia said she had a cunning plan and had glued her hands to the prop... cue the hilarious moment when Claudia was supposedly yanked by a big fish into the 'water' below.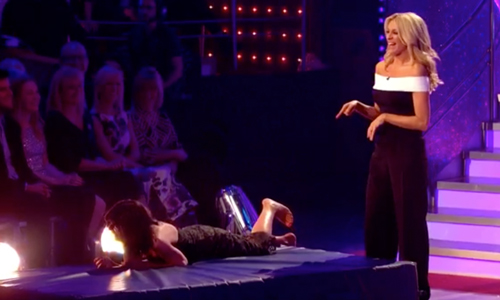 As she fell out of shot of the camera, Tess just couldn't hold her laughter and even the audience was giggling!
The camera then pans downwards to show Claudia lying on a crash matt... we're guessing the behind-the-scenes shot wasn't planned.
Later, Claudia got up, brushed herself down and was swiftly told to 'be good' by a bemused Tess.
BUT Claudia wasn't the only Strictly star to take a tumble on the weekend! Judge Bruno Tonioli was so amused by Darcy Bussell's comments that he rolled off his chair!
Bless professional dancer Oti Mabuse for trying to help him up.
Watch the cringe moment here...
Did you miss all the Strictly Come Dancing action this weekend? Catch up on all the highlights in this quick roundup video...
Who do you think will take the Strictly Come Dancing crown this year? Let us know below...