X Factor Hots Up In The Live Shows As Another Act Bites The Dust!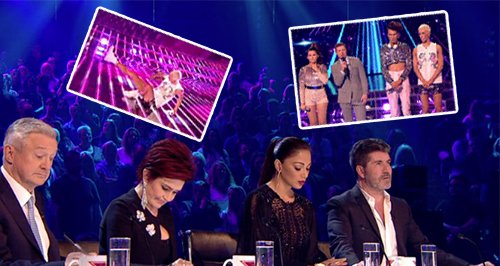 The first week of the live shows saw an act inevitably leave, but not the act that everyone may have predicted...
The live shows are back!
Judges Louis, Sharon, Nicole and Simon are back behind the judging panel in the X Factor studios and already an act had said 'see ya!'.
Flamboyant duo, Bratavio, were the first pair axed by the judges after an intense sing off against Finnish contestant Saara Alto who sung Sia's powerful song 'I'm Alive'.
It was a tough at to follow for the boys who's final performance was of Yazz's 'The Only Way Is Up' and impressively did ACTUALLY sing as opposed to their less tuneful song choice of 'Barbie Girl' the night before.
When it came to it Saara was the clear winner for all the judges except Louis who backed his boys until the end.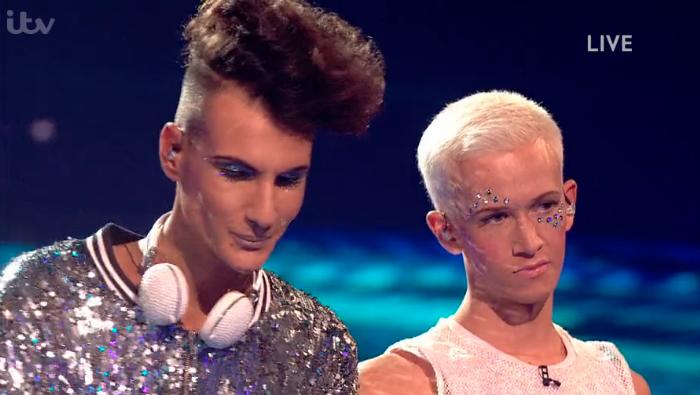 Photo: ITV
They bowed out gracefully with an impressed Nichole saying 'I didn't even know you could sing that good so that was amazing Bratavio, you really sang for your lives up there!"
There will certainly be less colour in the show now that they've gone home and we hope there's no more arguments between them about raw chicken...

Outrage as Honey G Gets through to the live shows!
Fans have taken to Twitter to ridicule Sharon Osbourne for her eye-brow raising choice of contestant on the 'X Factor' over the weekend.
The 63-year-old judge has been criticised for choosing to put Honey G through to the live shows over some of the more deserving singers.
Honey G has been a controversial offering during this series of The X Factor (Picture: ITV)
The self-proclaimed rapper seemingly managed to pull a blinder after nabbing a spot in Sharon's final three, following a lukewarm performance of 'Gangster's Paradise' by Coolio, despite leaving guest judge Robbie Williams baffled.
The 36-year-old rapper performed for Sharon Osbourne and Robbie Williams at the judge's houses (Picture: ITV)
Honey G's victory meant that other hopefuls in the Overs category were sent home in tears.
Viewers of the popular singing contest have been lashing out in the best way they know, by flooding the internet with a string of hilarious memes — because let's face it, if we didn't laugh we'd probably cry.
#xfaxtor #honeyG or #ozzyosbourne. I can see why Sharon has chosen you now pic.twitter.com/IFxkU2xKKN

— Becky Smith (@heidibex82) October 2, 2016
#xfactor my thoughts on Honey G and Bradley & Octavia being through to the live shows but Christian and Yes Lad aren't pic.twitter.com/qVPjuqQoOC

— #ThisTown (@JanoMcdona1d) October 2, 2016
Sharon...WHY?!!! You sent Christopher home and kept Honey G?!!!! #XFactor #JudgesHouses pic.twitter.com/Lj36fCRYby

— ZohraTheExplorer (@Zozzyyy14) October 2, 2016
In shock. How can Sharon have sent Peyton home but kept Honey G in? What the? #XFactor pic.twitter.com/LHfY9RClsj

— Heather Bamforth (@heverb) October 2, 2016
Elsewhere, Louis Walsh also caused controversy after choosing to put Bradley and Octavio, known as Bratavio, through to the live shows.
The camp duo have split opinion with their over-the-top performances and have been criticised for playing up to the camera after #Chickengate during their first audition.
Who is through to the X Factor live shows?
THE GIRLS - Simon Cowell's category
Emily Middlemas – 18-year-old Glasgow girl who will perform with guitar. Also reached Judges houses in 2014.
Gifty Louise – Originally from Ghana she came to UK 10 years ago. Made Boot camp last year the 20-year-old now wants to go all the way and win.
Sam Lavery – 16 year old student Samantha sailed through the first rounds of the competition with Nicole calling her, "an English raw diamond in the rough".
THE OVERS - Sharon Osbourne's category
Honey G – 35-year-old rapper, and former recruitment consultant, who claims to be the next Jay Z.
Kelley C – Hotel housekeeper from Birmingham, the 26-year-old has been writing music since she was 12.
Sara Aalto - 29-year-old singer has been a firm favourite of Nicole's since her first audition.
THE GROUPS - Louis Walsh's category
5 After Midnight – Devilishly handsome trio that Cowell says has "genuine potential". Kieran, Nathan and Jordan can be seen busting out the moves.
Bratavio – Bradley, 22, and Ottavio, 22, are both from Southampton and are one of this year's novelty acts.
Brooks Way – Twin brothers Josh and Kyle, 17, are protégées of none other than Sinitta, and met her after singing in their local church. They've Spent two years gigging and are now hoping for big break.
THE BOYS - Nicole Scherzinger's category
Matt Terry – Cowell said this 22-year-old hopeful reminded him of Olly Murs.
Ryan Laurie – The 20-year-old Scot won a competition earlier this year and sang at Wembley stadium.
Freddy Parker – An 18-year-old who just finished college, he is a self taught singer with no formal training.