'Hook' Cast Reunite After 25 Years...But It's Bittersweet Without Robin Williams
Whoever said that Lost Boys don't grow up.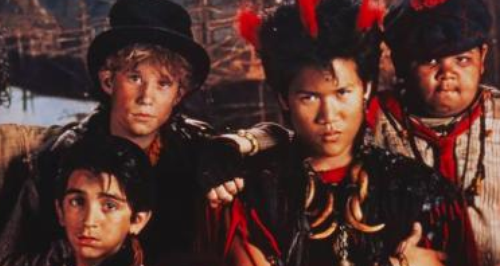 The cast 'Hook' reunited for the first time in 25 years to celebrated the anniversary of the Steven Spielberg's adaptation of the Peter Pan story.
Revisiting their characters, the cast took part in a one-off Neverland themed shoot of for 22 vision.com.
The actors who played the Lost Boys — Ryan J. Francis, Raushan Hammond, Isaiah Robinson, Thomas Tulak, Dante Basco, Brett Willis, Ahmad Stoner, Bo Gheorghe, Bryan Willis, and James Madio — kicked off the festivities by wearing outfits inspired by their original costumes including Rufio's iconic red feathered mohawk.
While it might have been the reunion we had all hoped for, it was apparent that Robin Williams was the special someone missing from the frame after he tragically two years ago.
The 1994 cult classic, saw Robin Williams star as Peter Pan in the years after he left Neverland and became an adult in the real world.
After Captain Hook kidnaps his children, Peter is forced make a return to Neverland and rediscover his past life as Peter Pan and fight his arch rival.
Among the reunion line-up we also see actor Ryan J Francis, who played young Peter in the films.
Aww! Such good memories!
And you can watch it right here, right NOW!
Take That fans will be delighted to hear that Robbie is on board with a mega reunion! Although it's not all fantastic news...
Recently Played Tracks
To listen live, choose your preferred location:
Now playing: Non-stop hit music
On TV:

Dress Loud: Heart's Top 25

4pm - 6pm