HMS Queen Elizabeth To Leave Portsmouth
30 October 2017, 08:55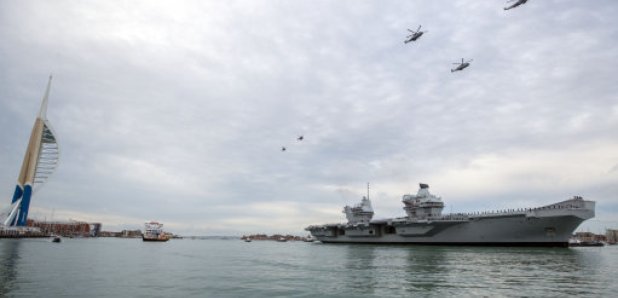 The UK's biggest warship could leave Porsmouth for the first time later.
HMS Queen Elizabeth was due to start sea trials last week but had to stay put because of maintenance work and bad weather.
The £3 billion vessel was greeted by massive crowds when it arrived here in August.
HMS Queen Elizabeth (@HMSQnlz) will sail today from Portsmouth. She is due to pass the Round Tower at 1300. https://t.co/EwumLxnRxe pic.twitter.com/wVSgsMzjuU

— Royal Navy (@RoyalNavy) October 30, 2017
The 65,000-tonne carrier arrived at her home port in August after leaving Rosyth dockyard in Fife, where it was built, in June.
Defence Secretary Sir Michael Fallon said: ""HMS Queen Elizabeth will be the Royal Navy's flagship for the next 50 years, keeping us safe by deploying across the seven seas, using her strike power to deter our enemies."