Win A Family Day Out At Portsmouth Historic Dockyard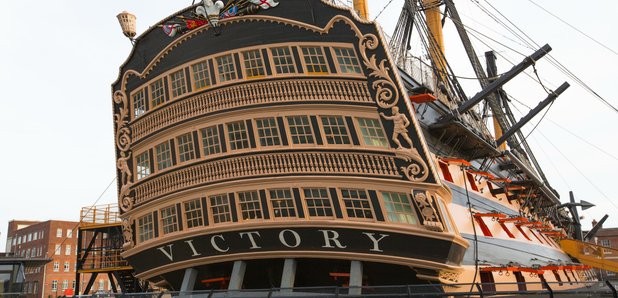 Totally nuts about Tudors? Loopy about Lego? Cunningly crafty with scrapheap challenges? Then you're in for a treat... Here's your chance to win a family day out at Portsmouth Historic Dockyard!
Make Time for Fabulous February Fun For All The Family!
We have the perfect prize for you to keep the family entertained this February, as we've teamed up with Portsmouth Historic Dockyard to give away 150 family tickets!
You will be aaarh-mazed by their pirate quiz and you'll definitely wear out the kids (of all ages!) on Actions Stations' Ninja Force assault course. Then you can complete the Hunt the Mice trail at Explosion Museum of Naval Firepower.

From February 18th, you'll be able to try out mast-rigging for free with your entry ticket. Experience what it would be like to be a sailor on the high seas in Boathouse 4 and see if you have what it takes to climb to the top of the mast.
Highlights this half term include a brand new exhibition 'Women and the Royal Navy: Pioneers to Professionals' which tells the incredible 250-year long story of women working in the Naval Service. Tales of cross-dressing as male sailors and living secret lives is just one part of this fascinating story. The exhibition opens in the centenary year of the Woman's Royal Naval Service (WRNS) formation and is a superb taster of women's vital role in defending our shores.
Don't miss a trip to the Mary Rose, Henry VIII's first love, which for the first time ever provides unrestricted views of the ship and life-sized projections of the crew. And download the new Mary Rose app to get more from your visit.

Or take the new visitor's route on board the world's most famous warship, HMS Victory and be one of the first to try our brand new audio guide as the drama of the battle of Trafalgar unfolds, deck-by-deck, hour by hour, when the ship sets sail from Portsmouth.
Visit the Victorian powerhouse, HMS Warrior 1860, as well as unique Gallipoli Campaign survivor - HMS M.33 before taking a short detour to the Royal Marines Museum, nearby at Eastney.
Be wowed, and moved, by the greatest naval battle of all time – the Battle of Jutland – through never-before-seen displays and galleries in the newest blockbuster exhibition 36 Hours: Jutland 1916, The Battle That Won the War.

And if that's not enough, get out onto the water with our harbour tour and use the water bus to get to the Gosport-based attractions. Submerse yourself in the only remaining Second World War-era submarine, HMS Alliance before visiting neighbouring Explosion Museum of Naval Firepower which tells the exciting story of naval warfare.
For your chance to win one of our 150 family tickets enter your details in the form below!