Public Meeting In Taunton To Discuss Flood Plans
9 October 2014, 14:28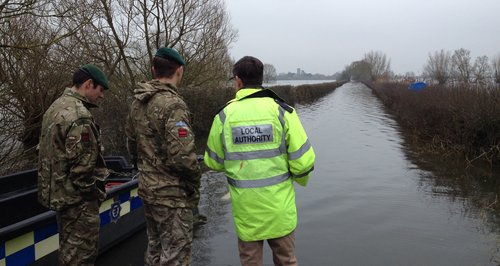 A public meeting on the response Somerset residents can expect in the event of flooding this winter will be held in Taunton in November.
Last winter there was significant flooding across the Somerset Levels which left many residents severely affected and many properties devastated. A major incident was declared and a sustained multi-agency response put in place which lasted almost three months.

Having visited the floods and spoken to local residents, Police and Crime Commissioner Sue Mountstevens wrote to the key agencies involved and suggested a public meeting was held to give local residents an opportunity to hear about the latest plans should flooding happen again. That was agreed and the meeting will be held in Taunton on Monday November 3, 2014.

The purpose of the event will be to give key agencies and the voluntary sector involved in any flooding response the opportunity to describe the joint plans in place should flooding happen anywhere in Somerset, the emergency response and access to affected areas and the safety and security of both people and property.

As well as presentations from the key agencies – including local authorities, emergency services and Environment Agency - there will be a chance ask questions and speak to agency representatives.

The meeting will be jointly hosted by the Sue Mountstevens and Councillor John Osman, leader of Somerset County Council.

Speaking about the event, Sue Mountstevens said:
"I felt it was important to have this meeting so that residents know what to expect if flooding affects their community this winter. The focus will be on describing the agencies' plans, talking about what will be different this year and getting feedback on those plans too. I know some lessons have already been learnt from last year and so now we need to look ahead and make sure we're ready in case of flooding this year."

Councillor John Osman, Leader of Somerset County Council and Chair of the Flood Action Plan Leaders Implementation Group, said:
"A lot of work has been done by many agencies since the winter flooding and this will be a good chance to update people on progress. The 20 Year Flood Action Plan is moving forward, but no-one can promise that there won't be flooding in the future and it's important that all agencies are well prepared."

The meeting takes place between 6.30pm – 9.30pm on Monday November 3, 2014 at the Tacchi-Morris Arts Centre on School Road in Taunton. Anyone wanting to attend must register in advance online, by emailing pcc@avonandsomerset.pnn.police.uk or by calling 01275 816377.