Heart Breakfast
Love Heart Breakfast? Click the Like button to get updates in your news feed.
Troy believes anyone can create a Summer Anthem, this is his attempt!
Can you make your dog bark in 5 seconds?….
Would you rather apply moisturising, coconut oil sun-cream all over the Pope or all over the Queen?
Work out the curry related pun and sing along to our Curryoke
Ed, Try and Paulina asked for your most boring photos on your phone...
Contact Ed, Troy & Paulina
Recently Played Tracks
6am - 10am
Text 'WEST' to 82122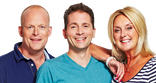 Stay tuned...
Now playing: The best feel good music