Winchester Cathedral Ice Rink and Christmas Market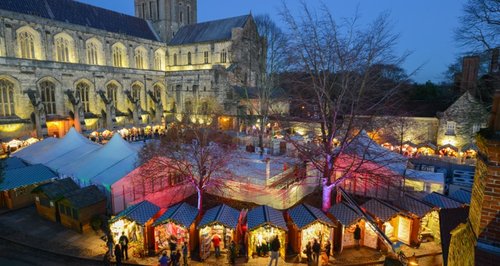 Join Heart and Winchester Cathedral in the countdown to Christmas!
Christmas has arrived at Winchester Cathedral!
2016 marks the eleventh year of Winchester Cathedral's Christmas Market and Ice Rink.
From relatively modest beginnings, these major events now attract over 350,000 visitors a year and have achieved a reputation as being amongst the very best Europe.
The Christmas Market started in 2006 with just 40 stalls and now boasts over 100 pretty chalets brimming with gifts, decorations and festive foods. There's an area dedicated to British crafts and a food court offering a range of mouth-watering treats to enjoy on the spot or take home.
The Ice Rink is situated in the heart of the Christmas Market and with the Cathedral providing a stunning backdrop. It really is the perfect winter playground for adults and children alike. Special Tiny Tots sessions are available for children as young as 2 to enjoy the rink.
Christmas Market
Winchester Cathedral, SO23 9LS
Thursday 18 November – Tuesday 22 December
Now in its eleventh year, find over 100 beautifully decorated wooden chalets stunningly situated at the foot of the Cathedral in the historic Close brimming with Christmas gifts, decorations, and festive foods.
Open every day, 10am - 6pm Sun – Wed and 10am – 7.30pm Thu – Sat
www.winchester-cathedral.org.uk/christmas
Ice Rink
Winchester Cathedral, SO23 9LS
Thursday 18 November – Monday 2 January
Winchester Cathedral Ice Rink is having a complete makeover in celebration of its 10th anniversary. Its new clear-span roof means that whatever the weather everyone can now enjoy a rain-free skate. A selection of new pre-bookable food and drink packages are now available for adults and children and offer a great way of enhancing your skating experience. 1 hour sessions include free skate hire. Minimum age limit is 4 years although sessions for 2+ are available.
Tickets: £10.95 adults, £8.95 children (8- 18), £6 children aged 4-7, £33 family (2 adults and 2 children). Further price options and group packages can be found online. Open from 10.05am, last session at 7.45pm (closed Christmas Day). Tickets are from the Cathedral Box Office on 01962 857 275 and online at

www.winchester-cathedral.org.uk
Plus check out these other great events taking place at the Cathedral during the Christmas Season
Twilight Tower Tours
Saturday 19 November – Saturday 17
Christmas Tower Tours
Saturday 19 November to Saturday 17 December
Military Wives Concert – Home for Christmas
Monday 21 November, 7.30pm
Winchester Music Club – Christmas Concert
Thursday 24 November, 7.30pm
Christmas Lantern Procession and Community Carols
Thu 1 Dec at 6pm
The Waynflete Singers – A Christmas Fantasia
Saturday 3 December, 7.30pm
Cathedral Christmas Carol Concert
Friday 9 December, 7.30pm
Cathedral Chamber Choir Christmas Concert
Saturday 10 December, 1pm
A Dickensian Christmas
Saturday 10 December, 7.30pm
Winchester Consort – Behold the Mystery
Sunday 11 December, 6.30pm
Children's Storytelling
Monday 12, Tuesday 13 and Wednesday 14 December, 11.30am-12 noon
Ian Anderson plays The Christmas Jethro Tull
Friday 16 December, 7.30pm
Cathedral Carol Service and Candlelit Supper
Monday 19, Wednesday 21 and Thursday 22 December, 6.30pm
Children's Christmas Holiday Activities
Tuesday 20 and Thursday 22 December, 10am – 12 noon
Britten's Ceremony of Carols
Friday 23 December, 1pm
Advent Procession
Saturday 26 November at 6.30pm
Cathedral Carol Services
Monday 19, Wednesday 21 and Thursday 22 December, 6.30pm
A Christmas Celebration – family carol services
Sunday 11 and Sunday 18 December at 3.30pm
To find out more on these great events go to www.winchester-cathedral.org.uk/whats-on