Matt & Caroline's Random Act of Kindness
Meet Heart Breakfast listeners Lisa and Sue from North Devon, who told us about their amazing daughters Chloe and Paige.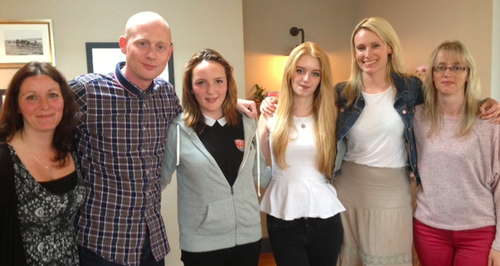 Chloe & Paige may have very serious life limiting illnesses, but they take it all in their stride.
On Sunday, their dreams came true when they met their hero: Olly Murs.
If you missed it, listen back to this truly inspiring story and hear the moment when Matt & Caroline gave the girls a HUGE surprise!
Their faces were a picture when we told them the great news! Watch the moment when Matt & Caroline burst in on a family meal with a MASSIVE surprise for the girls.
Heart Breakfast would like to thank:
The man himself: Olly Murs (of course!)
The Hampton by Hilton Hotel at Exeter Airport - home to Marco's New York Italian.
County Landrover Barnstaple
Atlantic Village - Bideford
The Big Sheep - A great day out, guaranteed!
Lets Go Barnstaple
Colosseum Hair & Beauty
The Sea Gate Hotel - Appledore
West Croft Primary School
For helping to give Chloe and Paige a weekend they will never forget.
Chloe and Paige got to meet the man himself!