End Of Era For Ipswich Police Station
5 May 2014, 06:00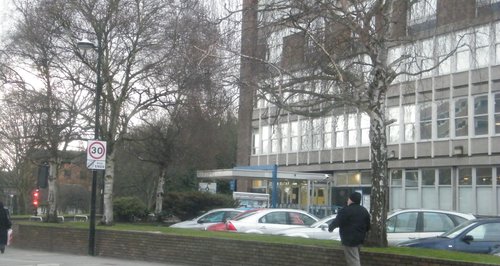 It is the end of an era for policing in Ipswich with the closure of the Civic Drive police station after 46 years.
The Civic Drive Police Station will close its doors for the last time on Monday 5 May at 5pm and the new base at 10 Museum Street will then open from 8am the following day.
The base will ensure that police continue to maintain a presence in the area and offers a central hub for community services.
It will be manned by clerks at the front desk from 8am to 8pm seven days a week (bank holidays 9am-5pm) to help with public enquiries. It will be the new base for the Ipswich Central Safer Neighbourhood Team with support from the Special Constabulary, along with the Town Safe Team, local community safety representatives, ID officers, the Operational Partnership Team and public protection officers.
Out of hours the intercom service which was available at Civic Drive has been replaced with a similar intercom at Museum Street, which connects direct to the Constabulary control room.
Ipswich Policing Commander Superintendent Louisa Pepper said: "This change of base will in no way affect any of the services offered to people living in the Ipswich area. The Ipswich Central Safer Neighbourhood Team will continue to operate from the new office as they did from the old police station building and officers will continue patrols as they always have.
"The new base is part of an ongoing review to ensure we get best value for taxpayers while maintaining and improving services – and by reducing the costs associated with maintaining older buildings that are no longer fit for purpose."
The Civic Drive Station was opened in July 1968 and has seen over 40 years of policing in Ipswich. When it was built it was state of the art for the period but is no longer fit for operational use, so the new site was purchased.
Over the years, the building has housed arrested suspects in its custody cells, which at one period, had direct access to crown courtrooms.
Michael Standring, a serving Station Clerk who has worked at Civic Drive Station for 29 years said: "I started at Ipswich Police Station in 1984 as the Head Cook where I worked for 23 years before becoming a Station Clerk, and have seen a lot of changes in my time.
"I have had many happy times at Civic Drive and have lots of memories to keep. Moving to Museum Street is an exciting new venture and although I will be sad to leave the old station, the new one will be a totally modernised environment and I look forward to being able to be part it."
Ownership of the police station site in Civic Drive will be returned to Ipswich Borough Council.
Residents are reminded that they can also access police services by simply dialling 101 from any phone and to talk to police about neighbourhood issues, pass on information or report crimes or contact your local Safer Neighbourhood Team. In an emergency, if a life is in danger or you suspect a crime may be in progress, always call 999.