Bra Appeal
Do you have Bras that you have grown out of or just don't need anymore and wonder what to do with them?
Well no matter what shape, size or colour, dont just throw them away... donate them!
In July the residents of East Grinstead did just that!
Ladies were asked to raid their underwear drawers and send in any unwanted Bras to the McIndoe Surgical Centre to help raise money for Breast Cancer Charities.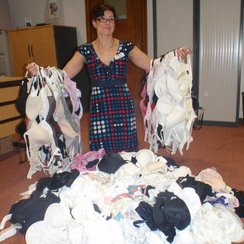 A whopping 296 have been donated so far and have been sent to www.breasttalk.co.uk where they will be shipped off to start a new life on the other side of the world, to help economy in third world countries.
Thank you to everyone who donated to Bra Appeal, you have helped to raise a staggering £6727 so far. If you are interested in donating any old bras to the appeal or details on further ways to donate please visit www.mcindoesurgical.co.uk or call 0800 917 4922
Donate your Bra now!
---