Heart At Brighton Pride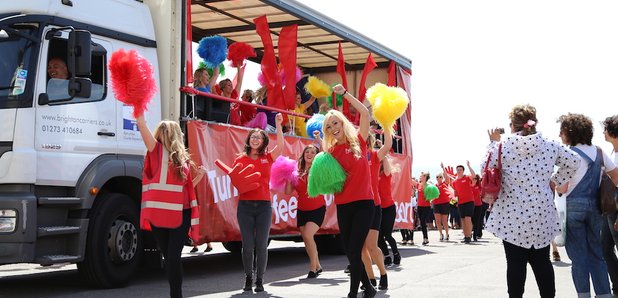 Brighton Pride returns this Friday and we've got the details you need to celebrate a Summer Of Love.
Pride Community Parade at 11am
The annual Pride Community Parade takes palce on Saturday and is one of the biggest and most exciting visual events in the city with a spellbinding spectacular of music, floats, bands, costumes and dancing. Over 200,000 people are expected to participate and watch as the Parade fills the streets when it leaves over Hove Lawns at 11am and travels through the city centre.
Make sure to look out for the Heart Float with the Heart Angels and dancers from Marina Studios at Brighton Marina Village. They Brighton's largest dance studio complex and home to Street Funk, the South Coast's most successful Hip Hop Dance School.
Pride Summer Of Love Festival at 12 noon
The legendary Pet Shop Boys will be headlining in Preston Park for the Pride Summer Of Love Festival on Saturday, their first Pride performance in 20 years. They've released 26 albums and have won the Brit Award for Outstanding Contribution to Music in 2009. Also on stage at this year's festival, special guests Years & Years and Louisa Johnson.

For tickets to Pride 2017 or to make a donation, visit: www.brighton-pride.org
Road Closures - Saturday 5 August
There will be a rolling road closure in place for these roads starting at 9am. Roads will be reopened as the parade passed and it is safe to do so.
Most roads are expected to be reopened by 3.30pm with the exception of southbound Preston Road that remains closed until midnight.
Kings Way from Grand Avenue to Kings Road
Kings Road
Grand Junction Road
West Street
North Street
Castle Square
Old Steine
Marlborough Place
Gloucester Place
St George's Place
York Place
London Road
Preston Circus
Preston Road
Stanford Avenue between Preston Road and Florence Road
New England Road between New England Street and Preston Circus
Queens Place two way traffic flow
Oxford Place two way traffic flow
Francis Street two way traffic flow
Baker Street two way traffic flow
Kingsbury Road two way traffic flow
Rose Hill Terrace two way traffic flow
Springfield Road two way traffic flow (between Preston road and Beaconsfield Road)
Preston Road will be closed on Saturday 5 August between 3.30pm and midnight

Road Closures - Saturday 5 and Sunday 6 August
The following roads below will be closed from 10am on Saturday 5 August until 3am on Sunday 6 August, and from 1pm until midnight on Sunday 6 August.
St. James's Street from the junction with Old Steine East to the junction with New Steine
Ardingly Street
George Street
High Street
Chapel Street
Dorset Gardens
Steine Street
Manchester Street
Charles Street
Broad Street
Madeira Place
Camelford Street
Margaret Street
Wentworth Street
Rock Place
New Steine
St James Ave
Devonshire Place
Pavilion Parade
Pavilion Street
Princes Street
A259 Marine Parade ( 1 lane ) from Aquarium Roundabout to Lower Rock Gardens
Cavendish Street will be closed from 10am on Saturday 5 August until midnight on Sunday 6 August.
Please note: These listings are subject to change if the Police and/or the Highway Authority consider public safety issues exist.
Brighton Pride 2016 Highlights Video