Brighton Fringe 2017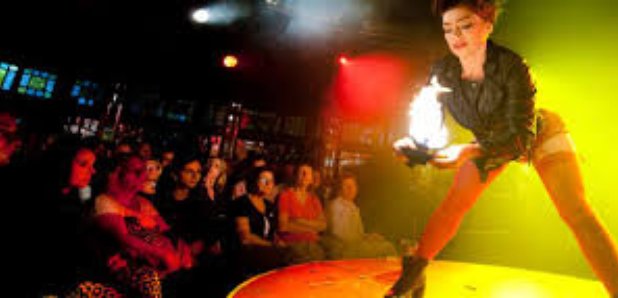 The Brighton Fringe is back with their biggest programme yet! Check out all the great events and activities taking place May 5th- June 4th.
Join Heart from May 5th to June 4th for this year's Brighton Fringe!!! With a record-breaking 970 shows and events, including more than 300 world premieres, 100 international shows and the first ever Fringe City weekdays this is a celebration not to be missed!!!
To celebrate Brighton Fringe have joined forces with The Warren to kick things off with opening night fireworks.
On Thursday 4 May fireworks will be launched from the top of St Peter's Church to mark the opening of England's largest arts festival. Free tickets are now available for up to 2,000 people to view the fireworks from the South Side of St Peter's Church and enjoy entertainment courtesy of Fringe City.
Offerings from the 260-strong theatre programme includes the world premiere of Blooming (19-21 & 25-27 May), Patrick Sandford's take on experiences of happiness, following his hit show Groomed, which won three Brighton Fringe theatre awards in 2016. Comedy writer John Osborne (creator of John Peel's Shed and Sky 1's After Hours) returns with Circled in the Radio Times (26, 27-29 May), and We Are Ian (31 May & 1 June), a homage to acid house, which won the Brighton Fringe Award for Excellence at last year's Edinburgh Fringe, makes its Brighton debut.
There are 320 comedy shows including stand-up and magic from the legendary Jerry Sadowitz (2-3 June). Scott Gibson, winner of the 2016 Edinburgh Comedy Award for Best Newcomer, performs Life After Death (12-14 May), a darkly hysterical account of living through a brain haemorrhage. Owen Roberts, one-third of Beasts, premieres brand new show The Man Who Ate Too Many Raisins (13 & 14 May). Boogaloo Stu's Last Orders at The Dog & Dumplings (10-11 May), a merciless exposé of regeneration, makes its Brighton Fringe debut. Up-and-coming comedians Samantha Baines (6-7 & 20-21 May), Tez Ilyas (15-17 May), Sophie Willan (20-21 May) and Zach Zucker (12-14 May) will also perform.
Creative showcase Fringe City will see the North Laine come alive every weekend during May. This includes two Brighton Fringe Family Picnics (6 & 27 May), part of the Fringe's kids and youth programme, which has more than 100 shows this year.
For the first time Fringe City will also take place on Thursdays and Fridays (from 11 May), at Bartholomew Square in association with Sweet Venues, and there will be an evening Fringe City (2 June) on New Road as part of The Fringe's Final Fling. Also new for 2017 is the Fringe City Charity Day (8 May), which will host the finish of the Mayor's Brighton-to-Paris charity cycle ride, plus community stalls and live Fringe performances.
Stay tuned to Heart Breakfast for your chance to win tickets to some great Brighton Fringe events! for more information on Brighton Fringe or to buy tickets visit www.brightonfringe.org or call 01273 917272 to book.