Join Heart's Extra Egg And Donate Your Easter Eggs Today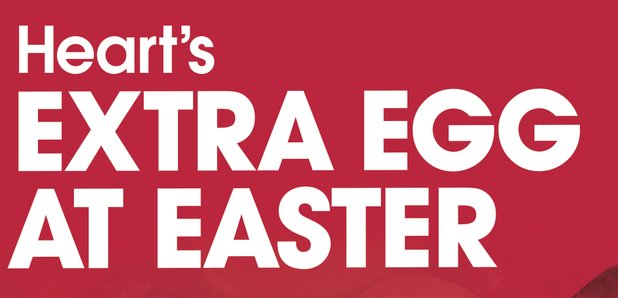 Here at Heart, we get very 'egg-cited' about Easter - especially for all that chocolate! So this Easter, join us in what we want to be our biggest Easter Egg hunt of all time, by donating your extra egg to treat the kids that miss out. #HeartExtraEgg

There are some children who don't get Easter treats, so we've teamed up with TSS Facilities who are your Buildings Heating, Electrical, Air-conditioning and Water Hygiene experts, to give the gift of Easter to as many local children's charities as possible.
As well as your extra eggs, we want your nominations of charities you think are in need of some Easter cheer too. Fill out the details below.
How to donate your Extra Eggs!
To donate your extra eggs, just look out for a collection point at any of the below supermarkets and drop them off before Sunday 25th March. Our Heart Angels will then be collecting the eggs from across the county and delivering them to local charities, hospices and schools.
You've played the Easter Bunny really well the last few years and have donated LOADS and LOADS of eggs so this year we are determined to get even more.

To register your charity to receive some eggs,
complete your details below by Sunday 25th 2018

Want to donate an Extra Egg? Donate them at the
following supermarkets between Monday 12th March
and Sunday 25th March 2018

Brighton

Morrisons
5-8 St James's Street, Brighton, BN2 1RE

Brighton

Sainsbury's
27 New England St, Brighton, East Sussex, BN1 4GQ

Brighton

Tesco
19-20 Station Rd, Portslade, Brighton, BN41 1GB

Brighton

Sainsbury's
93 Lewes Rd, Brighton, BN2 3QA

Burgess Hill

Waitrose
Market Place, The Martlets, Burgess Hill RH15 9NP

Crawley

Sainsbury's
37-43 Queensway, Crawley, RH10 1EG

Crawley

Sainsbury's
Crawley Avenue, Crawley, RH10 8NF

East Grinstead

Sainbury's
Brooklands Way, East Grinstead, RH19 1DD

Eastbourne

Morrisons
Lottbridge Drove, Eastbourne, East Sussex, BN23 6QD

Eastbourne

Sainsbury's
Broadwater Way, Eastbourne, BN22 9PW

East Sussex

Morrisons
Dane Road, Seaford, East Sussex, BN25 1DL

Hastings

Morrisons
Queens Road, Hastings, TN34 1RN

Hastings

Sainsbury's
John Macadam Way, ST. LEONARDS-ON-SEA, TN37 7SQ

Haywards Heath

Sainsbury's
Bannister Way, Haywards Heath RH16 1DG

Hookward

Tesco
Reigate Road, Hookwood, Horley, RH6 0AT

Hampden Park

Sainsbury's
Broadwater Way, BN22 9PW

Horsham

Sainsbury's
Worthing Road, Horsham, RH12 1SQ

Pulborough

Sainsbury's
Stane St, Codmore Hill, Pulborough, RH20 1BQ

Surrey

Sainsbury's
Warwick Quadrant, London Road, Redhill, Surrey RH1 1DL

West Sussex

Morrisons
Newland Street, Worthing, West Sussex, BN11 1JU
TSS Facilities offer a full range of services for all your facilities including water treatment, industrial heating, electrical services, air conditioning and ventilation installations, service and maintenance in Brighton, Sussex and surrounding areas. They provide a professional and highly rated service, contact them today for a free consultation for all new heating, air conditioning, electrical and refrigeration installations.