5 men found guilty of imprisonment and assault
17 February 2017, 06:44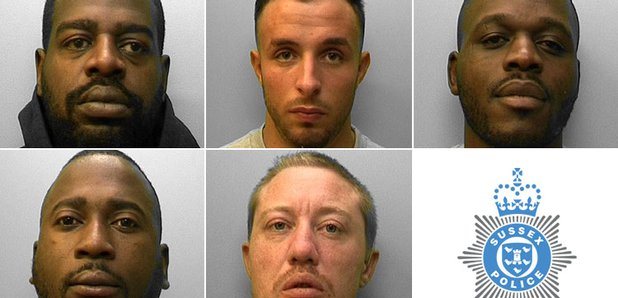 WARNING: material within this article may cause distress
Five men have been found guilty of keeping two men against their will and torturing them using a knife and an iron before leaving them in the boot of a car in Brighton.
Police received 999 calls from people living in flats at Barclay House in Wellington Road after they reported hearing shouts for help at 10.20pm on 6 October, 2015.

When officers arrived at the scene, they found two victims with their hands and feet bound, one still in a car boot (pictured) in the car park of Barclay House and the other sitting on the ground nearby.




The investigation revealed that both victims were invited to a flat in Barclay House but once there, they were subjected to a horrific attack by a group of men resulting in them being imprisoned for four hours. Both were bound and their attackers demanded cash from them. The picture below shows the tape and string found in a bin in the flat, which was used to restrain them.



The 24-year-old man suffered a stab wound to the arm and burns to his feet with a hot iron and wounds to his face and head. The other victim aged 21 suffered minor injuries to his head and wrist. Their attackers then used the 24-year-old's car to drive to his flat, and steal his cash before returning to the flat in Barclay House, bundling the pair down the stairs and into the boot of the car at knifepoint.

Samuel Tando, 27, of Croydon, William Ben-Sellem, 24, of Brighton, Alexander Pululu, 31, of Orpington, Kent, Ashraf Abdullah, 28, of Hove and Martin Maloney, 41, of Brighton were all charged with two counts of false imprisonment, two counts of robbery, one count of grievous bodily harm with intent, possession of a firearm and two counts of making threats to kill.

They all pleaded not guilty to the offences but Tando, Ben-Sellem and Pululu were found guilty of all the charges, except possessing a firearm, after a five-week trial at the London Inner Court, Southwark in August 2016. The jury could not reach a version on Abdullah and Maloney but during a retrial which started last month at the same court, they were found guilty on Thursday (16 February). Maloney was found not guilty of making threats to kill.

The five men who are on remand will be sentenced in April.

Detective Inspector Andy Wolstenholme said: "The victims in this case were subjected to a horrific ordeal and have suffered tremendous pain and stress. The 24-year-old man has not recovered full mobility in the use of his arm where he was stabbed.

"This has been an incredible complex investigation. Achieving this result will aid the victims' recovery as well as sending a strong message that violent and organised criminal groups are not welcome in Sussex and will be relentlessly pursued.

"All the victims and witnesses who gave evidence at the trial demonstrated real courage and community spirit in coming forward to help secure these convictions. Without the support we received from partners and the public, we would not have been able to bring the case to court and ensure these dangerous men are imprisoned."
Come back to our website and follow us on Facebook and Twitter for an update on their sentencing.