Hastings: Battle Of Hastings Re-enactment Returns
2 October 2014, 06:00
The annual re-enactment of the Battle of Hastings is returning to the town following a two year absence.
Every October the most famous conflict in English history is recreated in the East Sussex town.
But last year's event was called off by English Heritage to allow the grass to grow back at Battle Abbey in Battle, near Hastings.
The year before, the re-enactment of the 1066 battle was cancelled amid health and safety concerns following wet weather conditions.
English Heritage has now announced that the two-day event, which will attract 400 Norman and Saxon participants and a company of horses, will return on October 11 and 12.
Lydia Tickner, of English Heritage, said the spectacle, which will culminate in a mighty clash between the warring sides, will have "more action than a Hollywood blockbuster''.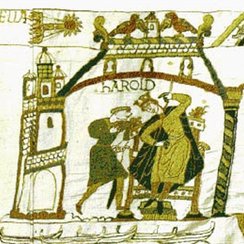 Meanwhile, plans are under way to mark the 950th anniversary of the Battle of Hastings on October 14, 2016.
A steering committee has been set up to work on a series of events to remember the significance of the battle which altered the course of history in medieval England and led to the Norman conquest.
It is hoped that a senior Royal Family member will attend the commemoration as the Queen helped mark the 900th anniversary in 1966.
A lunch with invited guests from Normandy and further afield will kick off events being organised by the steering committee, called Concorde 950.
It will be followed by a memorial service in the town's St Mary's Church to remember the fallen, both Saxon and Norman, who lost their lives on that bloody day in 1066.
A military band will end events, with a marching display through the town centre of Battle culminating in a flag lowering ceremony at dusk in front of Battle Abbey.
Later that evening, a reception will be held for guests invited from Battle, Normandy, Hastings and surrounding areas.