Tougher Sentences For Laser Pen Offenders
20 December 2017, 07:09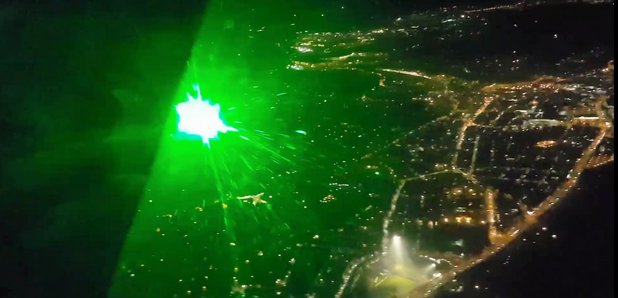 People who shine lasers at planes, trains, cars or boats could be jailed for up to five years.
New laws would also see offenders given unlimited fines.
On Monday there were five reports of planes trying to land at Gatwick being targeted.
Commonly-available laser pens can cause eye damage and in some cases render people temporarily blind.
Existing legislation means someone found guilty of shining a laser at an aircraft faces a maximum fine of just £2,500.
The Laser Misuse Bill expands the types of transport which are covered to include trains, buses, boats and hovercraft.
National Police Chiefs' Council (NPCC) lead for lasers, Commander Simon Bray, said shining a laser at an aircraft or another moving vehicle is "deeply irresponsible and dangerous".
He went on: "Laser attacks can lead to catastrophic incidents.
"These new and robust measures send a clear message to perpetrators: laser attacks are a crime and serious consequences will follow from committing this offence."
The new laws will make it easier to prosecute offenders by removing the need to prove they intended to endanger a vehicle.
A further laser incident reported yesterday by flight deck of inbound aircraft at around 17.00 hours. From the Groombridge area so possibly the same culprit as the day before. Someone must know the culprit so please let us know by ringing 101 pic.twitter.com/UQe3v9DB6x

— Sgt Darren Taylor (@PSDarrenTaylor) December 20, 2017
It will be an offence to dazzle or distract the operator of a vehicle either deliberately or if reasonable precautions to avoid doing so are not taken.
Aviation minister Baroness Sugg warned that laser misuse can have "fatal consequences".
She said: "The Government is determined to protect pilots, captains, drivers and their passengers and take action against those who threaten their safety."
Laser pens have been a growing concern in the aviation sector in recent years as pilots have been targeted by the beams.
The first laser attack on an aircraft was reported in 2004 and since 2011 there have been around 1,500 incidents in the UK each year.