Heart Breakfast's Xmas Turkey Escapades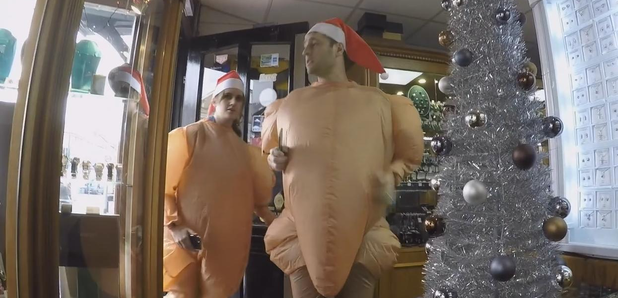 Producer Brian has managed to get three giant inflatable turkey costumes (they basically look like a turkey that's just come out of the oven on Christmas day.
To make things interesting he's given Tom, Nicola & Jack a tin containing every combination of the team. Eg, Nicola, Nicola and Tom, Nicola & Jack, all three of them together etc. Whoever gets picked out each day, will have to head out in Sussex and will be secretly recorded doing their shopping, whilst acting as if nothing is out of the ordinary.
DAY THREE - Tom gets "peckish" in a pet shop.
DAY TWO - Nicola goes for a spray tan.
DAY 1 - Tom & Nicola go engagement ring shopping.
If you want your own inflatable turkey costume (and what Christmas is complete without one), you can get them from Smiffys.com or at Revamp Fancy Dress in Brighton.