2012 Facts and Figures
Check out the 2012 Olympics in numbers...
- More than 200 buildings had to be demolished at the 2.5sqkm Olympic Park.
- The five host boroughs are Newham, Hackney, Waltham Forest, Tower Hamlets and Greenwich.
- Organisers received more than one million ticket requests for the men's 100 metres final, which takes place at the Olympic Stadium on August 5.
- 2000 newts had to be relocated from the Olympic Park to the Waterworks Nature Reserve in Lee Valley.
- 14 lighting towers are needed to illuminate the Olympic Stadium because the 2012 Games will be the first to use HD TV freeze-frame coverage and they will be essential to capture the action
- There were around 700,000 successful applicants in the first round of ticket sales, meaning 1.2 million missed out on their initial preferences.
- The Olympic Village will be the most spacious in Olympic history with 17,320 beds and an average 16sqm floor space per athlete.
- The 2012 Summer Olympic torch relay will last 70 days, visit six islands and will see around 8,000 people carry the torch 300m each. It will start in Land's End, Cornwall on May 19, passing through Oxford and Reading on the 9th and 10 of July.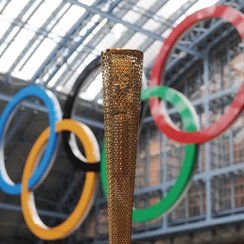 - Two people from the Thames Valley won a competition to get their designs on Olympic themed 50p coins. Delivery driver Shane Abery for boxing and sculptor Jonathan Olliffe from Witney for gymnastics and Aquatics.
- The Olympic hockey pitches will be blue - the first time an Olympic or world event has differed from the traditional green-coloured synthetic turf - to improve viewing for players, fans and officials.
- The Olympic mascot, Wenlock, is named after Much Wenlock in Shropshire where the Wenlock Olympian Society held its first Olympian Games in 1850. His Paralympics mascot equivalent, Mandeville, got his name from Stoke Mandeville Hospital in Aylesbury, which held the Stoke Mandeville Games from 1948 and was the inspiration for the Paralympics.
- More than 800,000 tonnes of soil - enough to fill the Royal Albert Hall nine times over - had to be taken away before construction of the Olympic Stadium could begin.
- The Olympic Village will be converted into as many as 3,600 apartments after the Games.
- A tri-generation plant will supply electricity, heat and chilled water to the Olympic Park using technology which produces 33 per cent lower CO2 emissions than from the electricity grid.
- The International Broadcast Centre is the size of six full-length football pitches and will be the base for around 20,000 broadcasters, photographers and journalists.