Floods: Latest Warnings For Thames Valley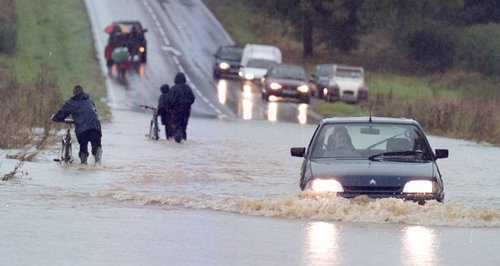 A number of flood warnings and alerts remain in place across Berkshire, Oxfordshire and north Hampshire.
Hundreds of people affected by flooding are being told NOT to remove sandbags, with more rain forecast for the coming days.
A "Major Incident" was declared by emergency services in the Thames Valley earlier this month, as parts of the River Thames reach their highest levels in 60 years.
Windsor and Maidenhead area's among worst affected, with around 300 members of navy and army helping across the Thames Valley - a third of them deployed to Datchet where a 600 metre sandbag wall has been built.
One of our rivers have already broken record levels with the river Kennet thorugh Newbury at 1.39 metres on Thursday 9th January 2014, that's three centimetres higher than ever before.
Authorites here asking all of us to stay away from any flood waters, following the deaths of a cyclist in flood waters in Wytham and a man who fell from his mobility scooter into the Thames in Oxford.
The Environment Agency is also advising people in flood risk areas to have a flood kit prepared, which includes warm, dry clothes, a torch, mobile phone and charger, first aid kit and important personal documents.
Check out if your area is among those affected by a flood warning or flood watch here.
With further rain expected overnight, stay tuned to Heart for the very latest and join Matt & Michelle on Heart Breakfast for travel updates every 15 minutes.