Eastenders Have Messed Up Awkwardly With This New Year's Blunder!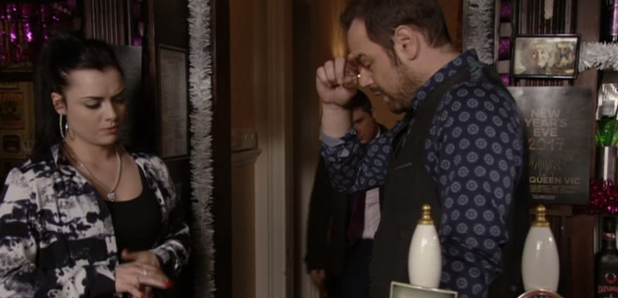 Many fans noticed the gaffe straight away after it popped up in the Queen Vic during yesterday's episode.
There have been a few Eastenders gaffes this year, some more dramatic than others, but this could be the most OBVIOUS one yet!
During scenes that took place in the Queen Victoria pub in yesterday's episode, many fans spotted something glaringly obvious on a poster in the background promoting a New Year's Eve party...
Did anyone else notice the nye 2017 sign behind the bar in queen vic #bbc #eastenders pic.twitter.com/5XyIMOId1J

— ChristineSpeshHanley (@hanleybabyspesh) December 27, 2016
It says NYE 2017, oops!
Mick Carter (played by Danny Dyer) is getting a bit ahead of himself there, we need to ring in the new year for 2016 first!
Admittedly, it has been a bad year but lets not fast forward a WHOLE year!
And it wasn't just a few people that spotted the error either, many fans took to Twitter to laugh at the silly blunder.
Why have Eastenders got a poster up for 'New years eve 2017!!!!! #eastenders

— judy parslow (@jparslow1965) December 27, 2016
#eastenders Mistake in Eastenders. Poster up behind the bar advertising New Years Eve 2017 - That's next year!

— Luke Edwards (@edwardsluke1981) December 27, 2016
@digitalspy the Vic are planning in advance advertising #NYE 2017! Let's do this years first! #Eastenders @bbceastenders pic.twitter.com/ddX9byW2og

— Phill Wills (@phillwills) December 28, 2016
Wow The Vic is planning ahead! NYE 2017??? #eastenders #nye

— vicki hill (@viks74) December 27, 2016
Or we might have totally got the wrong end of the stick and they really are planning that far in advance!