'Game Of Thrones' Season Five: UK Premiere
8 December 2014, 15:04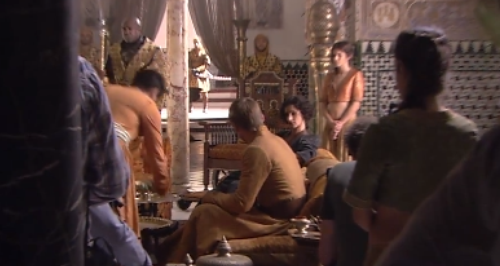 Heart was at the premiere at the Tower of London and caught up with the cast to get the lowdown on season five.
Find out what Kit Harington has to say about the new series and thinks of his heartthrob status, Iwan Rheon of his fans and listen to how impressed Alfie Allen is at having the premiere in the majestic Tower of London.
Kit Harington on being a heartthrob
Kit Harington dishes the dirt on season five
Iwan Rheon on his fans
Alfie Allen talks about the premiere at the Tower of London
As we all know, 'Game Of Thrones' thrives off its large cast and certainly isn't afraid to kill off and replace main characters at the drop of a hat! The show constantly keeps us on the edge of our seats wondering who'll get the chop next!
So far HBO have been keeping tight-lipped about who will be joining the brilliant line-up. But we can now reveal who's made the cut...
New Cast Members Alert!
The trailer sees the new actors introduce themselves to Comic-Con as their future characters:
Alexander Siddig will play Doran Martell,
Toby Sebastian as Trystane Martell,
Nell Tiger Free as Myrcella Baratheon,
Deobia Oparei as Areo Hotah,
Enzo Cilenti as Yezzan,
Jessica Henwick as Nymeria "Nym" Sand,
Rosabell Laurenti Sellers as Tyene Sand,
Keisha Castle-Hughes as Obara Sand,
Whilst legendary actor Jonathan Pryce takes on the role of the powerful religious leader High Sparrow.
The cast are clearly thrilled about their upcoming adventure. "People all over the world dream of being a part of this," says a proud Toby Sebastian "so for me as an actor being cast alongside these fantastic people is really as good as it gets." Whilst Feisty Jessica Henwick reveals what most excites her about her new role: "What do I like most about my character? Her weapons." You go girl!
'Tomorrow Never Dies' and 'De-Lovely' star Jonathan Pryce is also thrilled about joining the show.
"I'm very excited to be joining 'Game of Thrones' with this new and fascinating character.", he's said about his upcoming role.
Behind the scenes footage alert!
And here is the new gang in action...
This little teaser of the cast in action on the Moroccan style set has certainly wet our appetite.
The new season of 'Games Of Thrones' will be hitting our screens in 2015.
We'll drink to that!