Nominate Someone To Win A New MG3 From Nathaniel Cars
Know someone who deserves some Christmas CarMa? Nominate them to win a brand new MG3 Style and you could win £500, all thanks to Nathaniel Cars!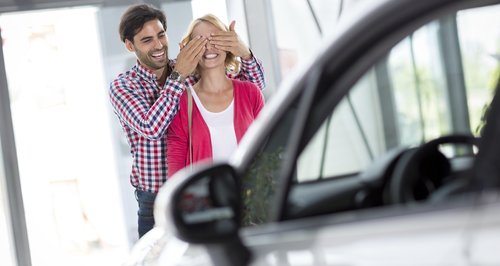 This Christmas we're all about 'CarMa' again, treating those amazing people who really deserve something good to happen at this special time of year!
So, we've teamed up with Nathaniel MG, the UK's Number 1 MG dealer, to treat someone to a brand new MG3 Style, worth over £10,000 and delivered in time for Christmas!
Do you know someone* that really deserves a special gift, perhaps they've been through a tough time this year, worked wonders in your local community, or are simply the person who is always there for you whatever and whenever.
Whoever they are, we want to hear about them and want you to tell us why you think they should win the stunning MG3 Style in White On The Tiles complete with 16 inch alloy wheels!
Imagine the look on their faces when we deliver the brand new car from Nathaniel MG and it would all be thanks to you. And that's not all as whoever nominates our car winner will also win them themselves a whopping £500 to make Christmas even merrier this year!
There's two ways to nominate!
The Heart Angels will be out and about in South Wales with the lovely MG3 and you can make your nomination with them between 12 and 4.30pm on the following dates:
Heat 1 Friday 2nd December: Asda Merthyr Tydfil Superstore, Heads of the Valleys Rd, Dowlais Top, Merthyr Tydfil, CF48 2YF
Heat 2 Saturday 3rd December: Asda Leckwith Road Store, Capital Retail Park, Leckwith Rd, Cardiff, CF11 8AZ
Heat 3 Sunday 4th December: Sainsbury's, Albany St, Newport, NP20 5NJ
Heat 4 Monday 5th December: Tesco Bridgend Extra, Cowbridge Road, Bridgend, CF31 3SQ
Heat 5 Tuesday 6th December: Festival Park Outlet Shopping & Leisure
Heat 6 Wednesday 7th December: Sainsbury's, Colchester Avenue, Cardiff, CF23 9XN
(More dates and locations to be added as soon as they are confirmed)
All you have to do is catch up with them, write the name of the person you want to win on the MG3 and tell us who deserves to win the car - and why, on the Heart iPad*.
If you don't manage to catch up with the Angels, don't worry as you can also enter via the form below, hurry though as entry closes at 23:59 on Sunday 11th December.
We'll then be selecting 5 finalists from each Angel heat plus 5 from the online entries making a total of 45 finalists. We'll be scoring them based on the quality of the reason, worthiness and the feel good factor to find our Christmas CarMa winner. And don't forget if your nominee wins the car - then you win £500 too!
Competition Terms and Conditions Here
Get ready to inject some FUN into your life, with the new range of models from Nathaniel MG, designed and engineered in Longbridge, Birmingham.
Whether you want to stand out from the crowd with an MG3, the supermini hatchback with it's host of personalisation options, or one of the new generation MG6 models, call them now on 01656 360074 to book your test drive.

Nathaniel MG, David St, Bridgend CF31 3SA
* Nominators and nominees must both be aged 18 or over and
nominee must live or work within a CF, NP or SA postcode area
Nominate Someone Who Deserves An MG3 & Win Yourself £500!
Now playing: Non-stop hit music