Win A £3,000 Bathroom Thanks To Porcelanosa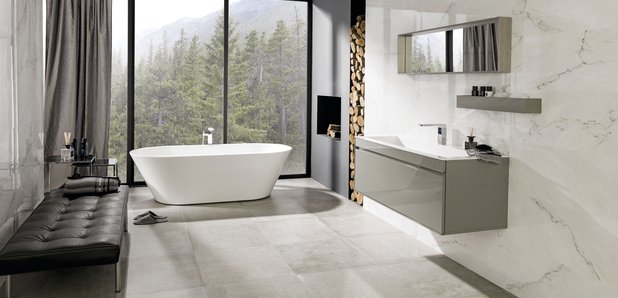 We're celebrating the Porcelanosa in store event in Cardiff by giving you the chance to win a bathroom makeover worth £3,000!
Started your spring cleaning and looking to turn your boring bathroom into a sumptuous spa? Then how about updating your home, as we have teamed up with Porcelanosa in Newport Road, Cardiff to give you the chance to do just that!
Make sure you head there on their event day, Saturday 25th March, and every visitor will get 25% off until the end of April as well as getting to enjoy food, drinks and family fun.
Our Heart Angels will be there too, celebrating the in store event by giving you the chance to win an iPad in our Winning Whirlwind... and talking of winning, how about a new £3,000 bathroom suite?...
Win a £3,000 bathroom makeover
For your chance to win a beautiful bathroom worth £3,000 listen to Heart Breakfast and Drivetime from Monday 20th to Friday 24th March and text BATHROOM to 82122 when we tell you to.
Then if you're picked to come to air during one of the shows, you'll win 40% off at Porcelanosa and an invitation to the event day at the showroom on Saturday 25th March for our grand final.
The grand final will take place in the showroom itself, surrounded by all the gorgeous bathrooms you could be winning.
So listen for your chance to win and you could walking away with a £3,000 Porcelanosa bathroom makeover!
Whether you are after a new shower, want to get rid of those old tiles or replace your bathroom suite, Porcelanosa have a whole range of bathrooms, fittings and accessories to make every time you sink into the bathtub, as perfect as it should be.
They're not just all about bathrooms though, they also have a wide range of modern and contemporary kitchens and hardwood flooring to help make your whole house perfect.
Porcelanosa
360 Newport Rd, Cardiff, CF23 9AE