Friday Facebook Pictionary
Every Friday morning Daniel Fox will be playing his favourite game: Pictionary!
He'll be drawing a well-known TV show, movie, book or song.

All you have to do is guess what it is for your chance to win this week's prize.

He'll post the picture on the Heart Facebook page. Look at the picture and then text your guess to 82122 (starting your message with the word 'presenter').

Like our Facebook page then click to it on a Friday morning to see the latest drawing. Visit the page here.

Please note, entries cannot be accepted via the Facebook page.

Good Luck!
Terms and conditions for Friday Facebook Pictionary
Recently Played Tracks
10am - 1pm
Text 'HEART' to 82122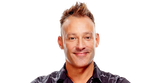 Stay tuned...
Now playing: Non-stop hit music