Heart Breakfast 2012 blog
Monday 17th December


At Christmas time I have to bonk my wife over the head with an empty wrapping tube. It's tradition.
So this morning I asked for your unwritten Christmas rules.
Glamourous Assistant Laura said that any CD's you receive have to be played on Christmas day and Amanda in Berkhamsted said you have to have alcohol with breakfast.
But Lisa in Hemel had a slightly different use for the empty wrapping tube.
Listen again below.
Daniel x
Friday 14th December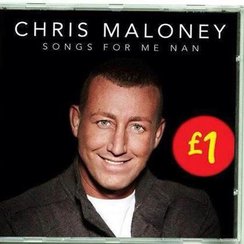 This weekend is the first weekend we'll have without Christopher Maloney on our TV talking about his Nan. So this morning on Heart Breakfast we asked you which songs you think should be on his upcoming album 'Songs For Me Nan'. Listen again below!

Daniel x
Thursday 13th December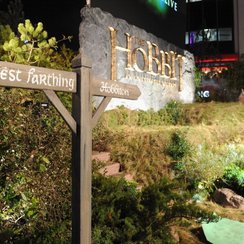 Our showbiz editor Charlie Girling joined me on the show this morning to talk new film The Hobbit which had it's premiere in London last night. Listen again below.

Daniel x



Tuesday 11th December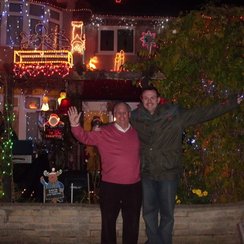 This morning on the show I was very excited to be joined by Croxley Green's very own Mr Christmas - Dave Edwards.

Listen again to find out how much money The Christmas House has raised so far this year.
Monday 10th December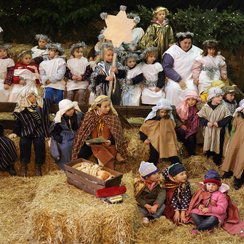 I was overwhelmed with pride on Friday as I went to watch my son Fraser's school nativity.
This year he was a mince pie and his friend was a robot.
I couldn't recall there being a mince pie or a robot at the birth of Jesus Christ so I asked you what bizarre parts you'd heard of in the Nativity.
Emma in Northend told us that she played a rock when she was at school, Anne in Watford's Daughter played egg and bacon and Sam in Hemel's little boy played a box of washing powder.



Thursday 6th December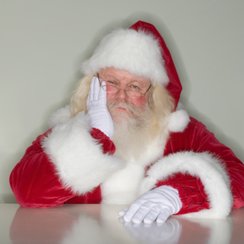 Yesterday I had some devastating news. I'm on Santa's naughty list!!
So I asked the little listeners of Heart Breakfast:
What can I do to get back on the good list??
Listen to Jennifer's advice for me below.

Daniel x



Monday 3rd December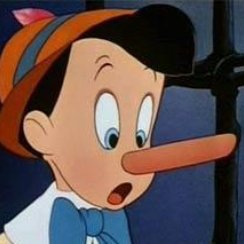 My father-in-law has convinced our son that tomato ketchup dries up your blood and if you pick your nose your head will cave in.
So this morning on the show I wanted to find out what lies you tell your kids.
Neveah told us how she convinced her nephew that his Nan was called 'The Old Dragon' and Emma confessed to telling her children that Coke was made from squashed ants.
But Paula in Kings Langley made us all giggle with her confession. Listen again below!
Friday 30th November
Today MOvember came to its conclusion.
Listen again to what happened below!

Daniel x
Thursday 29th November
It's that time of year again, when everyone in the office starts talking about Secret Santa.
The chance to thoroughly embarrass and entertain your colleagues with a gift under the value of £5.
So this morning on the show I asked what's the most bizarre gift you've given or received for Christmas.
Here's Natalie.
Daniel x
Wednesday 28th November

I've never been so embarrassed to be a man.
According to a new survey, men don't even know the very basics about their lady friend. We're not talking difficult stuff like who her best friend was at school, we're talking shoe size.
I'm a master at this stuff because, to be blunt, you girls are easily impressed. The fact I know the basics about my wife earns me infinite kudos and brownie points.
This morning on the show we did our "Lady Test" – and Laura put me to the test.
Listen below for a rare cameo appearance from Mrs Fox, and to see how I did.
Daniel x
Tuesday 27th November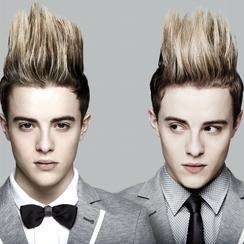 It's exactly a week to go until our work's Christmas party and I'm starting to get a bit nervous.
I've not had a very good track record with these parties so I thought I'd seek some help to calm my nerves. I asked 'What's the worst that can happen?'
Well, glamourous assistant Laura had a friend who ended up shoeless for the whole night and Liane in Watford told us the story of how she thought she was doing snow angels but was actually lying in cow pat.
But Sarah in Berkhamsted had the worst experience of them all at her work's Christmas do.
Listen again below.
Daniel x



Monday 26th November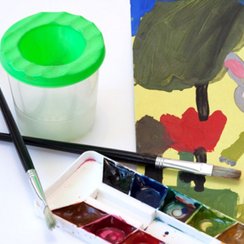 Picture the scene. It's 06:30 in the morning and my three year old son wants to do a painting. (obviously).
Having spent about an hour on various abstract works, Fraser asked me for a drink. No sooner than I'd turned my back to pour the milk, he begins to glug down the water he's been cleaning his brushes with.
All of it. Vile.
So, feeling like a completely unfit parent, you were comforting me with stories of what your child has eaten.
Daniel x

Children's Bushtucker Trial




Wednesday 21st November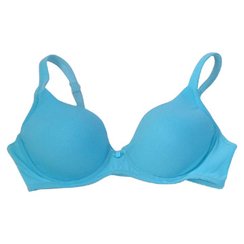 Sacha Baron Cohen is forever embarrassing his other half at social occasions. He recently asked superstar Cate Blanchett what she does for a living while he was out with his wife Isla at an awards ceremony!
So I wanted to know when have you or your other half done something silly whilst out.
Sally spent 5 minutes trying to get past her own reflection in a mirror at a party with her husbands whole family. Liane fell in to a pond while singing to some ducks but Frances really made us laugh with her story.
Find out what happened below!
Daniel x
Tuesday 20th November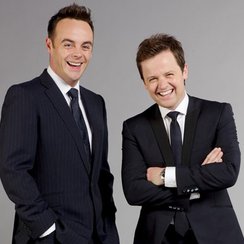 My moobs have got SO big, that I decided I really ought to do what girls do and give them names. So this morning on the show I was asking for your suggestions of what names you've got or heard.
Rachel went with Squidge and Squodge based on how they'd feel and Glamourous Assistant Laura said I should name them after Tweedle Dum and Tweedle Dee as they're a pair of bald twins!
But my favourite names came from Klara in Bushey, listen again below.
Daniel x
Thursday 15th November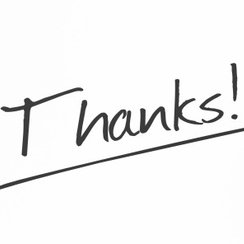 This morning we were talking about saying thank you unnecessarily.
Listen below to find out why.
Daniel x
Wednesday 14th November
It's official: I am the best husband in the world. After weeks or relentless railroading and continual coercing, I've finally given in and allowed my wife to have her wicked way.

Yes, Goldfish have entered the house. Whist I'm not particularly pleased about it all, I am currently experiencing a massive wave of self satisfaction. I've made someone happy.

This morning I was asking you why you should be Husband/Wife of the Year.
Here's Angie.
Daniel x



Tuesday 13th November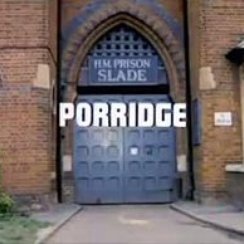 On this morning's show I was asking for more local landmarks you'd like me to lick. So far I have introduced my tongue to a few famous landmarks in Hemel, Kings Langley and Garston but haven't paid St Albans a visit yet.
So you gave me your suggestions of which place's in the city I should lick. Mandy in Kings Langley suggested the old prison where Porridge was filmed, Glamourous assistant Laura said she thought I should lick The Roman Museum but the suggestion that got us giggling was from Paul in London Colney.
Listen to what it was below.
Daniel x
Friday 9th November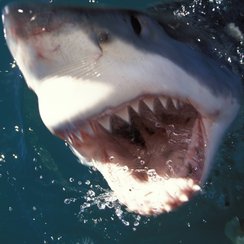 This morning I was asking for your weekend in three words.
Mine was 'Ho Ho Ho' as I'll be turning on the christmas lights in Croxley Green tonight. Glamourous Assistant Laura's was 'Chuck it Out' as she has a good clear out this weekend and Sarah in Watford's was 'Embarassing my child' as she will be dressing him up as an old english sheepdog at an exhibition!
But Klara in Bushey's three word weekend turned in to an educational lesson as I heard from little Daniel about the wonders of Great White Sharks.
Listen again below!
Daniel x
Big Daniel meets little Daniel



Tuesday 6th November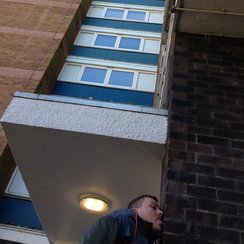 Inspired by the man who's licking every Anglican Cathedral in the UK, I decided to have a go at my own Lick a Landmark Challenge.
So we asked you to give us some ideas of which famous Hertfordshire landmarks I should introduce my tongue to.
April in Watford suggested the Meridan High Rise Towers, Marie in Hemel suggested The Old School House in Nash Mills and Debbie said that I should face my fears and climb to the top of the Kodak Tower in Hemel Hempstead.
Watch this space to see how I get on...
Daniel x
Monday 5th November
This morning on the show we launched our search for the smartest town or village in Hertfordshire.
We've got 10 general knowledge questions and you need to get through them as quickly as possible to secure the top spot for the place where you live, but be warned we'll add an extra 10 seconds for every incorrect answer.
Vanessa in Chaulden was our first contestant, find out how she got on below.
If you'd like to play Big Town Showdown then you can register here.
Daniel x
Friday 26th October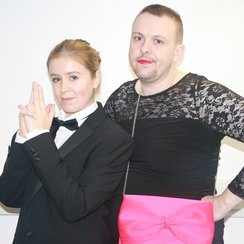 With the brand new film Skyfall being released today, this week has been all about James Bond.
From asking what things you'd never hear in a Bond Film to James Bond Themed Facebook Charades it's safe to say we've been getting very excited!
But this morning was the grande finale and we decided to celebrate in style by dressing up as Bond and a Bond Girl.
See all of the pictures here!
Daniel x




Thursday 25th October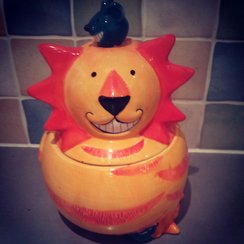 World War 3 erupted in my house last week... over a biscuit barrel. For the last 10 years my wife's been perfectly happy using said receptacle until she found out last week that it was a present from my ex girlfriend.
So now, not only is Catherine refusing to go near the thing but she wants me to dispose of it. So I decided to ask you for some help!
I wanted to know if you've kept things from your exes and if I you think I should keep it or get rid.
My wife or my beloved biscuit barrel? After much debating, I made a decision.
Listen to how it turned out below!
Daniel x
Wednesday 24th October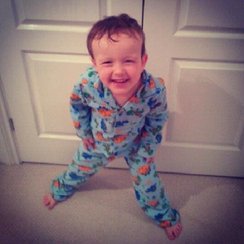 I've discovered that I am jealous of my three year old son. He has an incredible pair of Dinosaur pyjamas and I really want a pair to match!
So this morning I asked you what your children have got that you want. Amanda in Berkhamsted told us about her envy of her daughter's size 6 jeans, Hazel in Hemel wants a 24 hour taxi and an endless supply of money and Klara in Bushey would like to have the same jujitsu instructor as her two boys!
But the best call came from April who had an offer to make my day.
Listen to what she said below!
Daniel x
Tuesday 23rd October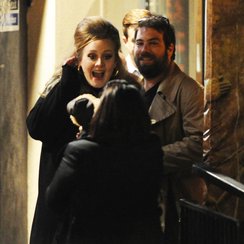 Adele and her boyfriend Simon Konecki have reportedly become parents for the first time! However, this means that she's going to be missing the premiere of James Bond Skyfall tonight.
So i wanted to find out what you've gone off to do soon after having a baby. My family and I went on holiday (nothing like getting on with it!)
Joanne in Watford went to do a big food shop when her son was only 15 hours old and Katie went to a 21st Birthday Party and Clare did a Bungee Jump but Shona in Hemel impressed me the most!
Listen again below!
Daniel x
Monday 22nd October


With our office looking more like a building site than a place of work at the moment, I asked if I could come and work at your house instead!
I had offers of bacon sandwiches and cups of tea and warnings of crazy animals and lots of children.
But the best offer came from Rachel in Bushey. Listen again below.
Daniel x
Friday 19th October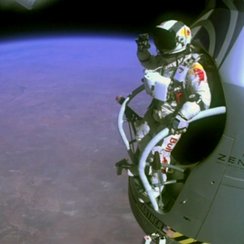 Every Friday we digest the weeks events in to an all singing all dancing Friday Song for your listening delight!
From Felix Baumgartner breaking the speed of sound to Brad Pitt posing for Chanel No.5 It's all in there and you can listen again below!
Daniel x
Thursday 18th October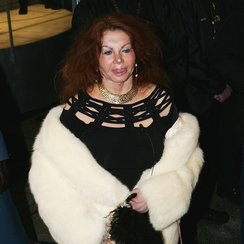 This is absolutely incredible. Despite having absolutely no money, and the country still reeling from the credit crunch, this year we will spend £775 Million on Botox and cosmetic surgery! Insane!! Clearly, despite what our wallets say, we all want to look like Pete Burns and Jackie Stallone.

You can find out more on this here.

;o)
Wednesday 17th October
David Mitchell was on the show this morning talking about his new book "Back Story". Ever since seeing Peep Show for the first time, I've wanted to be him: Hopelessly nerdy, yet effortlessly cool.
It turns out that we do have a few things in common. When someone comes up to say hi in the street, neither of us know quite how to conduct ourselves. Are you totally yourself and risk disappointing people, or are you over the top and end up looking like an eejit? Also, neither of us really had a proper girlfriend before getting married. I'm absolutely certain, on the basis of these two anecdotes alone, that we could be BEST of friends. Your place or mine, Dave?
Here's what he had to say on the subject of his upcoming nuptials.
Daniel x

Tuesday 16th October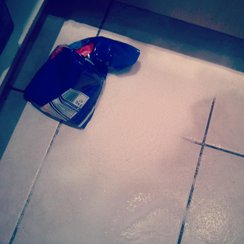 We've all had that awful moment when you make a little slip up which turns into a great big mess!
After I dropped a mammoth bag of Dishwasher Salt (3kg!!) all over my kitchen floor, I wanted to find out the biggest mess you've ever made!
Carron in Berkhamsted dropped her dinner all over the floor and Rachel in Bushey managed to spill 4 pints of milk all over her kitchen before immediately before she left the house for the school run!
But the funniest story came from Tina in Hemel. Listen again below!
Daniel x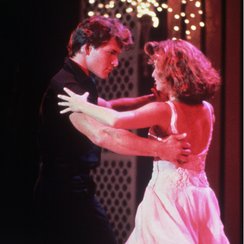 According to my wife, there's nothing more attractive than a man holding a baby.

So this morning I wanted to find out if you agreed with her or had your own ideas.
By the end of the show we had come up with your ideal mix, a bearded, well mannered, tattooed man who cooks, irons, cleans, can admit when he's wrong and has read all of the Sherlock Holmes Novels whilst looking like Gary Barlow!
I'm not so sure if such a man exists...
Turns out that all Natalie in Mill End looks for in a man is a pair of 'Snake Hips'!! Listen again below!
Friday 12th October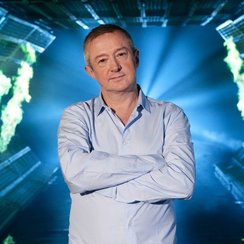 Every week on the show we compose and create our own little ditty; paying homage to the week that's passed, and what a week it's been!

From Gary Barlow getting his grundies in a twist to Wayne Rooney taking his off – here's Heart Breakfast's Friday song!!
Daniel x
Thursday 11th October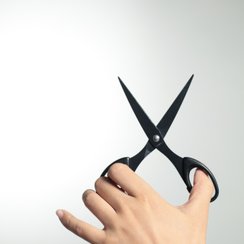 "Never have more children than eyes." This would be my advice to any aspiring parent, particularly after a day like yesterday. Picture the scene.I'm mowing the lawn whilst my eldest son is on the trampoline, seeing JUST how high he can go. At the precise moment that he begins to orbit the moon, I catch my middle child mugging next doors cat, and using a Ben 10 scooter as a get away vehicle. Whilst this is happening, my baby son is showering himself whilst enjoying some 'nappy free time'. Brilliant.
Never have more children than eyes. #Lessonlearned.
I asked you for your #Lessonlearned, and here's Shirley in Hemel.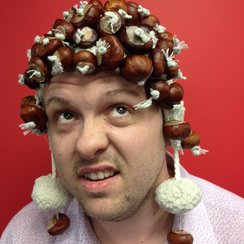 Now the weather's getting colder we face the dilemma of what to wear this Autumn season.
Well fear not, because this morning we brought you the first garment from Heart Breakfast's Autumn / Winter clothing collection!
This is the perfect solution to the cold weather and as an added bonus will keep those pesky house spiders at bay.
Daniel x

Tuesday 9th October


Anne Hathaway was given a cow as a wedding present recently! So we asked for your confessions of what gifts you've had to PRETEND to like, but lied??
I was given a Liverpool Sports Jacket as a child although I was a Man United supporter, glamorous assistant Laura was given a pair of earrings but doesn't even have her ears pierced, but the most shocking story came from Emma.
Here's what she got given but didn't like...

Monday 8th October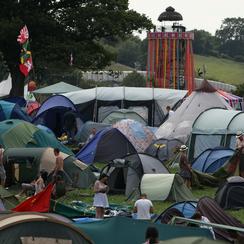 So, if you're the sort of person that likes spending a weekend in a muddy field listening to "important music" – then the chances are you tried to get tickets to Glastonbury tickets yesterday.
If you didn't manage it, then don't worry. It turns out you can make your own!!
Daniel x

Host your own Glastonbury

Friday 5th October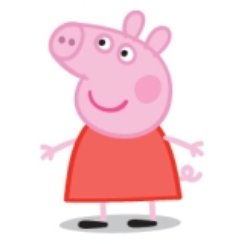 If like me you're a parent, then chances are you've already endured an unhealthy amount of Children's TV over the past few years. My three year old son is particularly keen on Peppa Pig at the moment, and suffice to say I've watched his DVD so MANY times that I can now recite it verbatim.

The thing is, as an adult watching children's programming, you start to see things that you didn't before. You start to notice that some things simply don't make sense. Like: why DOES Peppa Pig live at the top of SUCH a steep hill? Why are both of her eyes on the same side as her head?? It doesn't make sense!!
It's not just Peppa Pig though. Michelle and Karen both noted that Bungle from Rainbow wears nothing all day, but insists on pyjamas at bedtime. Also: if Cinderella's slipper was such a perfect fit, how did it fall off in the first place?!
Vanessa in Hemel joined in with the Peppa Pig discussion, hear what she had to say below!
Daniel x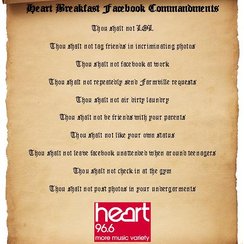 This morning I asked for your help to write the ten commandments of Facebook.
My commandment was 'Thou shalt not LOL' Glamourous Assistant Laura said 'Thou shalt not post incriminating photos of friends' and after a very awkward experience Natalie in Mill End decided that 'Thou shalt not be friends with Parents on Facebook'.
But we didn't agree on everything, listen back to Karen's commandment below!
Daniel x
Wednesday 3rd October


We've all seen the video of the baby who stops crying as soon as he hears the Star Wars theme tune. (If you haven't you can watch it here.) Well this is how I get my baby son to stop crying. TAP DANCE!

Daniel x





Tuesday 2nd October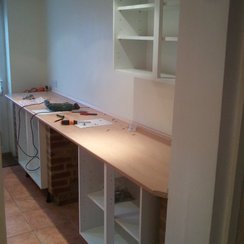 I'm a busy man at the moment. As well as chatting to you each morning, I'm in the middle of refurbishing my beautiful 165 year old cottage. Now, it has to be said that I am to DIY what Johnny Vegas would be to the Olympics. However, I've actually surprised myself. I can now wallpaper to a 7/10 standard, gloss at 16 meters an hour and even fit a kitchen. Well most of one.

You see, the more I did the more confident I became. Confidence became cocky, and cocky became brazen. So much so that I decided to make a cup of tea and take a phone call whilst kitchen cabinet doors hung, midair, attached by just one screw.

What happened two minutes later can only be described as Armageddon. A door fell from its hinge (singular) spectacularly shattering into 3,814 pieces before dropping to the floor (having first decimated the kitchen worktop).
I was gutted. Within 8 seconds I'd been transformed from Handy Andy back to bungling Dad.
Fortunately, this morning you came on with stories of things that you'd broken immediately. It made me feel a lot better. Here's Vanessa.

Daniel x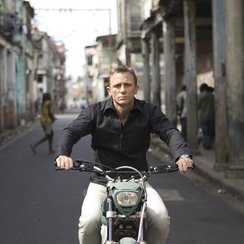 Welcome to October – the month of crunchy leaves, plummeting temperatures and JAMES BOND! We're now just 25 days away (not that I'm counting) from the release of the new 007 film "Skyfall" and I, for one, am very excited.
There is, however, one small irritation. Product placement. It's one thing when you see an ambitiously placed Nescafe Dulce Gusto coffee pod machine in an episode of Hollyoaks – but they've taken things even further with the new Bond film.
Just listen to the trailer to see what I mean!

Daniel x


Skyfall Trailer

Friday 28th September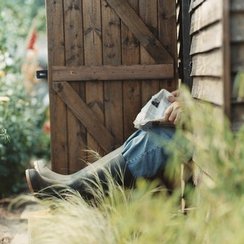 This morning on Heart Breakfast we were asking you what things you know but can't prove.
For example, I know that Pizza Hut only put a limited selection out at their 'all you can eat' buffet so that you eat less, but I can't prove it!
Kelly in Hemel knows that Hogwarts is real, and Rachael in Watford knows that she's been on the earth in a previous life... strange!
But Klara in Bushey topped it off telling us about the creatures in her back garden. Listen again below!
Daniel x

What do you know but can't prove?


Thursday 27th September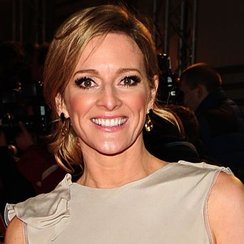 My special guest on this morning's show was TV Presenter and former international gymnast Gabby Logan!
We talked Feng Shui and 3 way splits and I even played Cilla Black as I reunited her with an old friend.
Hear the interview again below.
Daniel x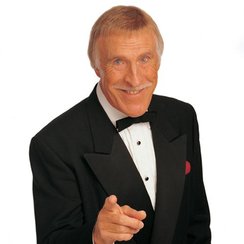 This morning we welcomed a new feature to the show – Heart Breakfast's Big Question. Along with the usual morning banter, showbiz news and brilliant music we're now tackling some of the day's burning issues and big talking points.

We decided to skip over the subjects of politicians on bicycles and who should be the next Archbishop of Cantebury and went head first into the issue that really concerns all of us right now.
How old IS Bruce Forsyth?
Daniel x

Heart Breakfast's Big Question




Tuesday 25th September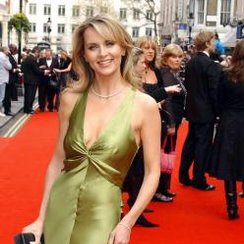 This morning my special guest on the show turned out to be multiple special guests, as I welcomed on the many voices of Debra Stephenson.

You'll know Debra from Coronation Street, Bad Girls and The Impressions Show on TV - and she came on to talk about her latest project.

I also reminded her of her 'commando moment' in Panto a few years ago, and you can hear the whole interview below!

Daniel x

Debra Stephenson on Heart Breakfast



Monday 24th September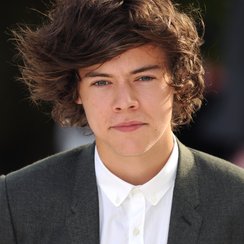 It may only be September, but already it's begun.

As soon as my wife's little pink notebook comes out of the top drawer, I know it's time. You see that book is the "Christmas Book".

Right through the year, she writes down ideas and remembers comments that you make so that, by December, she has a complete list ready to hand over to Father Christmas.
Well, lovely wife. If you're reading this – then the only thing I want this year – is one of these.

Daniel x


Harry Styles Figure
Friday 21st September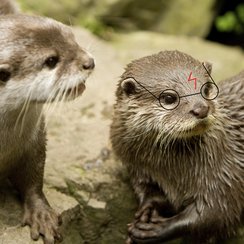 A new game has taken over my life.

We've all seen these silly games, generally on Twitter, where you change celebrity's names to make them more amusing.

For example "Celebrities From Outer Space" gave us The Saturndays and Freddie from Mercury. Then there was "Edible Popstars" with Rizzle Twix and Cakey Perry!

This morning we were doing "Animal Celebrities". I came up with Mick Jaguar, Glamorous Assistant Laura provided Holly Wallaby, and Siobhan called up with these!

Daniel x

Siobhan's Animal Celebrities


Thursday 20th September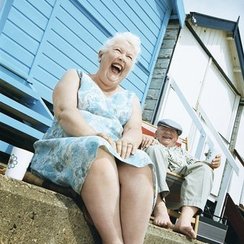 So this morning, we found out that the most tattooed pensioner on planet earth lives here in Hertfordshire.

A lot of people (me included) are of the opinion that you should grow old gracefully. By that I mean swap your trainers for 'slip-ons' and replace your jeans for chinos.

Light heartedly, I asked you what you'd like "people of a certain age to stop doing" and we had some brilliant and amusing suggestions.

Wearing bikinis, using slang and using Facebook where amongst my favourites, but Paul took his rant to a whole new level.

Hear him below!

Daniel x
Wednesday 19th September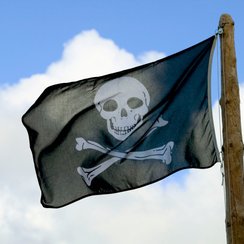 This day be International speak Like A scurvy pirate day.

I have no idea how 'tis all began, or even why it started, but it has. So, at every opportunity this day please stroke ye beard, hop 'bout on ye pegleg 'n speak like a proper scurvy pirate.

Oh - 'n if ye want to shout to fellow band 'o pirates, then I have just th' thin' fer ye.

Cap'n Daniel

Pirate Talk!
Tuesday 18th September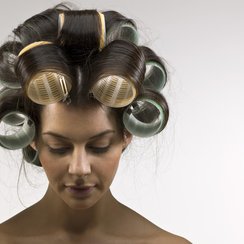 This morning on the show you were sharing your spectacular moments of forgetfulness.
From Ruth leaving her child at school for hours to Bob the taxi driver forgetting he had a customer in the back and driving home, we've ALL done it.
Click below to hear Amanda's incredible story. Oh, and remember. Don't book her for your big day!
Daniel x
Amanda's moment of forgetfulness...
Monday 17th September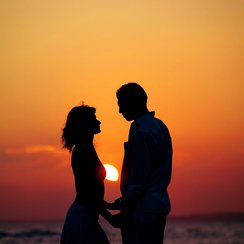 On the face of it, there's not a lot to smile about today. It's Monday, it's getting colder, we're all out of Bank Holidays and there's still 14 weeks to go until Christmas.

So this morning we were cheering ourselves up with our 'Good News Stories'. Michelle told us about her amazing weight loss, Vicky was delighted to have her husband back from the forces, Debbie's off on holiday tomorrow, and then there's Sacha.
Sadly, my deviant sense of humour quickly took over. Hear her good news story below, and how I've probably started the biggest domestic argument of the century!
Daniel x
It's a new dawn it's a new day and I'm feeling good...

Friday 14th September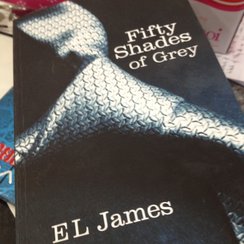 "Always surround yourself with people who are better than you" or so the motivational quote goes.
In my case, surround yourself with people funnier than you. Even if they're a child.
This morning 8 year old Louie gave us the biggest laugh of the week when we got onto to the sensitive subject of "Fifty Shades of Grey" Hear what happened when he and his mum Michelle played The Generation Gap!.
Daniel x
The Generation Gap 14th September
If you'd like to play along with the Generation Gap then you can register here.
Thursday 13th September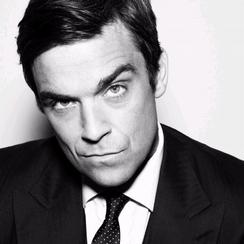 I never thought the day would come when I, Daniel Fox, would be mentoring Robbie Williams. However, this morning the moment came and I like to think that I rose to the challenge in triumphant style.

As you know by now, Robbie's expecting a baby. I was reading the other day that he's becoming increasingly nervous about it all. I think all of us parents can remember that genuine fear of the unknown, so I thought we could all give him our one best bit of advice to help allay his fears.

Heather in Hemel said ''listen to the endless stream of advice you're given… smile and nod. Then do what YOU feel is right''! Rachel in Bushey warned us of the perils of Lucozade in child birth, Jenny says ''Don't pretend to be asleep when the baby's crying' and Emma says 'trust your Mum' (awww bless).

However, the most poignant piece of advice came from Teresa in Hemel. Listen to it below!

Daniel x
Wednesday 12th September
TV Presenter (and all round nice guy) Ben Shephard joined me on the show this morning. Fresh from the Olympics victory parade on Monday, he dropped into the studio before heading off to see students at West Herts College in Watford. We ended up talking about everything from world records to Bill Oddie. Hear the interview again below. Daniel x
Ben Shephard on Heart Breakfast


Tuesday 11th September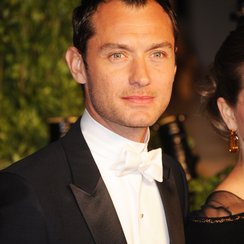 Who'd have thought it? Jude Law and I have something in common. Aside from the fact we're both incredibly handsome (ahem) we're both now banned from going ANYWHERE near the school playground.

On this morning's Heart Breakfast I told you how Jude's son Rafferty won't let 'Dad' anywhere near the school gates unless he goes incognito. Being the owner of an 8 year old boy, I feel his pain.

My advice? Just embrace it. Letting the children walk into school from the car saves you valuable time in the morning. Allowing the children to walk out alone at the end allows you to park somewhere more pleasant whilst listening to the radio. I just wish Jude and I had more in common. I bet HE doesn't drive a ten year old Toyota!

On tomorrow's Heart Breakfast it's all about YOU. I'll explain more in the morning!

Daniel x
Monday 10th September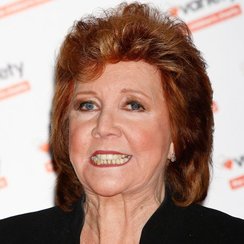 On this morning's Heart Breakfast we were talking First Dates.

After I confessed to climbing through a second floor toilet window just to escape a nightmare, you filled my ears with stories of gentlemen in 'Baby Grows' and men in fleeces with questionable intentions.

However, nothing quite prepared us for Liane's misfortune.

Listen here to find out what happened on HER blind date!
Friday 7th September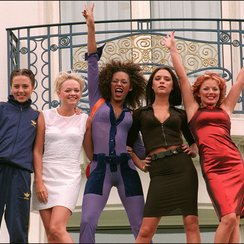 So – you know how competitive I am, right? Well on Friday's Heart Breakfast, ahead of "All 90's all weekend", I tried to prove JUST how much I could remember of my favourite decade.

I was absolutely certain I'd get all of these correct. I was wrong. In fact, I got six. Natalie in Mill End played and got five and Glamorous Assistant Laura got four (so fortunately I did STILL win!)

Now it's your turn!! Take our "So You Think You Know The 90s Quiz" and then listen to Natalie and I play the competition to find out the answers!

Daniel x
Richard Ashcroft was lead singer with which 90's brit pop band?


Here's a 90's TV theme. Samantha Janus starred in the show, but what is it?
So you think you know the 90's Clip 1


Tony Blair replaced who as Prime Minister of the UK?


1992's Biggest Oscar Winning film starred Anthony Hopkins and Jodie Foster - what was it?


Here's a UK hit from 1990. It's called Birdhouse in your soul - by They Might be WHO??
So you think you know the 90's Clip 2


In 1995 which group equalled a record held by The Beatles for consecutive Christmas number 1s?


This comedian was huge in the 90's - who is he?
So you think you know the 90's clip 3


In 1997 - Eddie Murphy played SEVEN parts in the same film - what was it?


In which 90's year did Wannabe, Jesus To A Child and How Deep Is Your Love get to number 1?


One Foot In The Grave launched on TV in 1990 - which animal featured on the opening title sequence?!
So you think you know the 90's Quiz.