Ed's Skydive For Global's Make Some Noise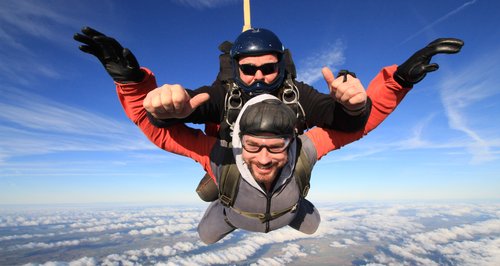 Ed from Heart Breakfast did it! He skydived from 13,000 feet on Saturday 26th November for Global's Make Some Noise!
You donated over £13,000 to Global's Make Some Noise so that Ed would have jump out of a plane and plummet to the ground at over 120mph.
For weeks we weren't sure it was going to go ahead. The Maximum weight for a skydive was 15 Stone and Ed was tipping the scales at 16, but after 4 weeks of dieting, Ed managed to get down to the correct weight!
But here it is, the moment Ed James launched himself from a plane back towards planet earth in a very 'sexy' boiler suit and goggles!
Keep an eye out for how fast the plane disappears into the distance!
It was incredible, life changing and something you've just to do in your life at least once, so if it looks like something you want to challenge yourself to then we'll be launching this again in the New Year.
It was all thanks to Skyline Parachuting who helped us out along the way, making sure that Ed was as comfortable as he possibly could be!