The Big App-Venture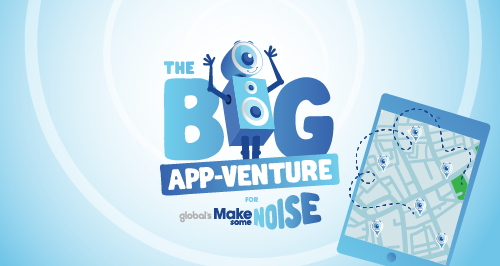 Register your team for the most EPIC App-Venture in the West Midlands!
We're looking for incredible people LIKE YOU who can help us raise cash and then take part in an epic treasure hunt around Birmingham on Sunday 9th October.
We're calling it The Big App-Venture and it promises to be a fantastic day out and the best bit…. By taking part you'll be helping change young lives through our charity Global's Make Some Noise. This year, just one of the charities we want to help is Edwards Trust in Birmingham, who help kids and families who have lost somebody close such as a Mum, Dad, brother or sister. They're incredible and have helped put young kids lives back on track through the darkest of times.
It costs them £500,000 a year just to stay open, so we want to help them.
So how can you help?
We're looking for you to register a team of anything from 2-4 people. It could be you and the family, people you work with, or hang out with at the weekend! Each team needs to raise a minimum of £200* (we reckon cake sales, raffles and asking for sponsorship is a great way to do this) Of-course, the more you can raise, the better!
We'll then all gather in Birmingham on Sunday afternoon on the 9th October, you'll be given an ipad with a really cool app on it and set off on a crazy treasure hunt around the city. Racing teams, scoring points and finally unlocking the location of a secret after party. You can do fancy dress or play it cool – it's totally up to you, it's just going to be a lot of fun!
We're getting stuck in too, and you'll even be playing against team Heart Breakfast with Ed and Rachel.
We're looking for teams of 2-4 people, the minimum age of kids is 10 years. If you're playing as a family and that makes your team slightly bigger, just let us know.
There's a £40 registration cost per team. This is to cover the cost of the ipad on the day.
Take a look at the incredible work Edwards Trust do and you'll totally understand why Global's Make Some Noise really wants to help.
For all the terms and conditions click here
"The Big App-Venture has been developed in collaboration with multi award-winning market leaders, Wildgoose Events who specialise in unique location based challenges using their versatile and interactive app."