Arrest After School Boy Stabbed Near Birmingham Mosque
1 October 2017, 07:16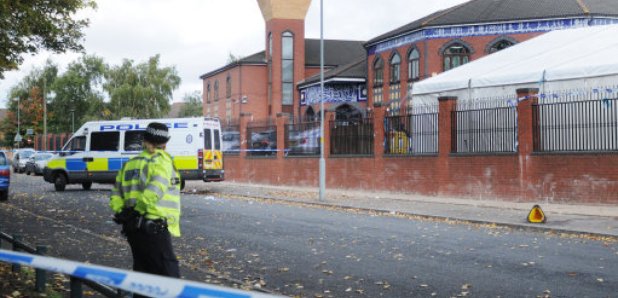 The 14 year old boy is critical in hospital as West Midlands Police question a man on suspicion of attempted murder.
A man has been arrested on suspicion of attempting to murder a teenager who suffered multiple stab wounds in a street attack.
The 29-year-old was detained by West Midlands Police after the victim, aged 14, was stabbed near a mosque in Herbert Road, Small Heath, Birmingham at about 1am on Saturday.
The boy was taken to hospital, where he remains in a critical condition.
Detective Inspector Jim Colclough from the complex crime investigation team at Bournville Lane police station said: "Our investigation is progressing quickly but it is still in the early stages.
"We do not believe (the incident) to be terror-related. The motivation for the attack is not yet known - we are keeping an open mind as to whether it could be racially or religiously motivated.
"We are working closely with local communities and have increased our local police presence in the area to provide reassurance and be on hand to answer any questions or concerns that people may have.
"It is tragic event which has left a young boy in hospital fighting for his life. We've spoken to a number of witnesses but would continue to urge anyone who was in the area and saw what happened, or has any other information which may help our investigation to contact me or my team on 101 or to call Crimestoppers as soon as possible."
Amjad Shah, the general secretary of the Hussainia Mosque, confirmed that the 14-year-old was a member of the congregation at the place of worship.
Mr Shah said: "This was a cowardly and unprovoked attack and the victim is critically ill in hospital.
"The Board of Trustees and the entire community is praying for his swift recovery. Our sympathies are extended to the victim's family."
Stressing that the motivation for the attack was not yet clear, Mr Shah added: "Background checks so far have not associated the suspect with any particular mosque or community.
"The Board of Trustees emphasises that whatever the motive behind this attack, it should not be sensationalised and neither used as a justification to spread hatred or incite violence.
"Hussainia Mosque will not tolerate the disturbance of the communal harmony between the various communities that share this geography.
"This is an ongoing police investigation and further statements will be released as the facts become clearer."
A statement by British Muslim communities said: "We condemn, in the strongest terms, the knife attack on a 14-year-old boy outside the Idaara Maarif-e-Islam Hussainia Mosque and Community Centre in Small Health, Birmingham.
"The victim received life-threatening injuries to the neck and head. We offer our love and prayers for the victim and his family. We recognise this is a difficult time for the local community, who have many concerns about the motive behind the attack, but we urge all in our communities to remain calm while the police establish the facts.
"Let us, as representatives of Britain's diverse Muslim communities, send a clear message to the attackers: your hatred and your actions disgust us. You do not represent us. You will not divide the unity that we as faith communities enjoy and have worked hard to establish. And you will not stop Islam from being practised in all its beautiful diversity.
"Finally, let us remember that we have a long history of working together. We celebrate and embrace the diversity of our communities, and we will continue to support one another in times of need."