"Our beautiful little prince"
The father of Finlay Connor has paid tribute to his "beautiful little prince".
6 year old Finlay died after being hit by a bus outside his school near Pewsey on Monday, his mum was injured and remains in a serious but stable condition in hospital.
His dad Greg Connor paid tribute in a statement released by Wiltshire Police: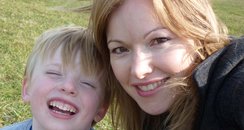 "Following the tragic and senseless death of our beautiful little prince, Finlay Joseph Connor, aged just six short years, who was the air that we breathed, I would like to take this opportunity on behalf of my entire family to thank some incredibly special people who tried so hard to save him on Monday morning.
"The Wiltshire Air Ambulance and Police helicopter crews whose response was nothing short of astounding. The staff of Woodborough School, all of whom Finlay adored, and especially Celia Barker for her level head and first aid skills.
"I am truly humbled not just by the love and tenderness shown to us by the parents and staff but by the public response as a whole.
"The world stopped turning for me on Monday morning, but as my beautiful wife, Nicola, lies desperately ill in Frenchay Hospital, it is this wonderful support that is keeping me going and enabling me to be strong both for Nicola and Louis, Finlay's three year old brother.
"At present, I am simply not able to make any sense of all of this. As you are aware there is an ongoing investigation, but for now I would respectfully ask for privacy and a chance to grieve.
"Please remember us in your prayers, and thank you all once again for your continued love and support."
A special assembly is due to be held on Friday at Woodborough School in memory of Finlay.
A 52 year old man has been arrested on suspicion of causing death by dangerous driving and released on bail.