Wolves watch New Moon
A pack of wolves at Longleat Safari Park were given an advance screening of vampire film New Moon - the second in the Twilight saga - ahead of its DVD release. E1 Entertainment showed the film on a 16 square meter screen in one of the country's only wolf enclosures on Sunday.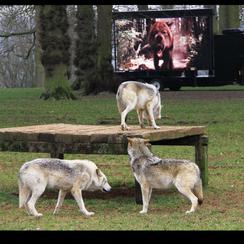 Ian Turner, deputy head warden at Longleat, said: "We've certainly never had a request like this before, so we were very intrigued to find out how the wolves would react to seeing their counterparts on screen.
"While they weren't so interested in the romance, the scenes of the wolves certainly got their attention and prompted a series of howls as the film went on.''
Martin Gough, of distributor E1 Entertainment, said: "Whilst Twilight was all about the vampires, New Moon develops a new love interest for Bella and in doing so introduces a range of characters that are all werewolves.
"Whilst we're used to deafening screams for Robert Pattinson, it's a nice change to hear howls of approval for the rest of the cast, including the screen wolves themselves.''