'Bike Some Noise' Cycle Challenge In Wiltshire
As part of this amazing event, people from around our network of radio stations will be cycling from Lands End to John O Groats on 'static' cycles to help raise money for disadvantaged children and young people across the UK and here in Wiltshire.
Our 'Local Champions' who will be cycling for us on the day is Amanda Hancock and Jenny Williams, who will be raising money for Swindon Downs Syndrome Group in Wiltshire.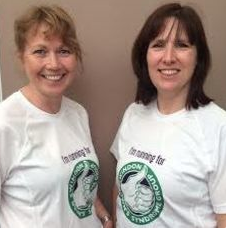 To sponsor Amanda and Jenny, click HERE!
So you can find out a little more about our champion Amanda, we asked her a few questions…
Which Heart region are you championing?
Heart Wiltshire
Which heart presenter do you most love and why?
Hmm that's a trick question as they all great!
Which charity are you representing and how did you come to be involved with them?
Jenny and I are supporting the Swindon Downs Syndrome group. We became involved with the group when both our boys were born, Jenny 15 years ago and myself 13 years ago. When your baby is born with Downs Syndrome you have such a mix of emotions from feeling happy to have a baby to anxiety, what will they be like, what will you tell family members, what will the future hold for them. The group was a tremendous source of support for both of us and through it life long friends are made.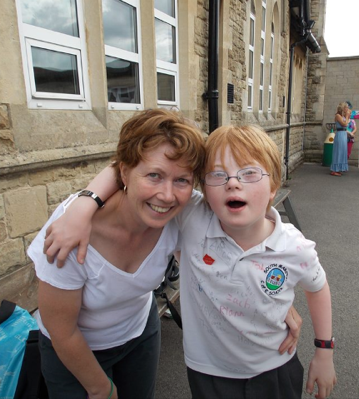 Why does Swindon Downs Syndrome group charity deserve listeners support?
The group provides support, training, new parent contact, school packs, family outings, Christmas parties, activity groups such as swimming, drama, football, PGL and a Youth Club plus life skill sessions such as weekly speech groups and a Salamander Fire rescue course. It is for the latter that we want to raise funds for it helps young people with Downs Syndrome to learn new skills in an environment other than school or home. It helps them to become confident when dealing with emergency services, be aware of dangers in the home and outdoors, be part of a team and take instructions to achieve a goal. Both of our boys have been on this course and we were so proud to see how confident they become throughout the week. They overcame fears of heights, the dark and water. My son, Charlie, is scared of heights and is not confident in unknown situations because of the challenges he was set and with the help of some incredible volunteers from the emergency services he was able to abseil down a building, go through smoke filled tunnels, take part in the water rescue at coate, cook his breakfast, clear up and dial 999. This week is also a great respite week for the families as it is held during the summer, we able to spend time with our other children knowing that our youngsters are in great hands. At the end of the week they have an extremely emotional pass out parade where we get to see how well they have done.
What's the most random act of kindness you've ever received?
The group is always giving to all its members when anyone needs help there is always someone there, but for me the most memorable is when Charlie was 4 days old and we went to visit Dave and Julie Thomas, who at the time were the groups parents contact, they patiently listened to us from 7pm till 1am on a Wednesday night, never judging what we said and always reassuring us, how right they were as well, things would be ok and they are!
How far do you think you'll get on the Bike (Some Noise?)
Jenny will be great she does mad things like 12 hours bike challenges, me I will be awful I was born with a hip displacement so on Friday I will be unable to move, but it will be worth it!
What are you most looking forward to about the Global's Make Some Noise Day?
Raising loads of money and hopefully meeting Heart Presenters Jamie Theakston and Marvin Humes from JLS!