Where's The Money Going In Wiltshire?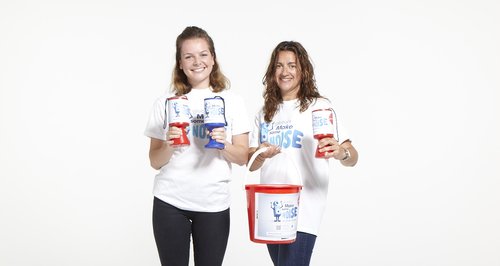 Global's Make Some Noise helps disadvantaged children and young people across the UK. These youngsters may be affected by illness, disability, bereavement or lack of opportunity.
This amazing campaign is supporting the following charities:
Swindon Downs Syndrome Group (Supporting children across Wiltshire)
Swindon Downs Syndrome Group supports children with Downs Syndrome and their families through activities, family trips and training days. With your help Make Some Noise plans to fund a Salamander Course, a five-day course run by the Wiltshire Fire and Rescue Service. On the course the children work as a team, learning fire-fighting skills with hoses, alongside getting the chance to climb, abseil and practice search and rescue. It's a great opportunity to learn new skills in an environment other than school, helping improve the children's self-esteem and confidence.
Swindon Carers Centre
Young Carers are children and young people who provide care to parents or siblings who are unable to care for themselves due to illness or disability. Swindon Carers Centre supports Young Carers by helping them enjoy a life outside of their caring roles.
The centre plans to provide a one week residential course, where the young carers will learn to cope with their difficult situations and take care of their own emotional well being, whilst enjoying a break from caring.
Helen & Douglas House (Supporting children across Wiltshire)
Helen & Douglas House Hospice for Children and Young Adults is a registered hospice charity providing palliative, respite, end-of-life and bereavement care to life-limited children and young adults, and their families.
Dylan is 17 years old and has Duchenne muscular dystrophy. He first came to Helen House eight years ago and has made great friends there. Dylan and his friends like to take their respite breaks at the same time and can often all be found on the computers in the games room, or doing wheelchair races.
'The best thing about Helen House is I get to see all my friends... and make new friends.' Dylan
For Lisa and John, Dylan's parents, Helen House has been a lifeline. 'It's an oasis,' said Lisa. 'We just feel that when we walk through those doors your problems are not there.'
Lisa adds: 'I don't know what we would have done without Helen House because in 2008 I was diagnosed with breast cancer. It was the day before Dylan's 11th birthday I had surgery. So for his birthday Helen House organised an Elvis tribute act and they had a party and a cake and everything. They made a real fuss of him as obviously he was worried about me.'
'Dylan will often say to people that call him disabled: "No, I am not disabled. I am in a wheelchair. I can still do the things I want to do."' Dylan's mum Lisa.
We want every child and teenager to reach their full potential. So we use the power of radio to MAKE SOME NOISE for those who struggle to be heard. Which allows us to award grants to specially selected projects across the country that are changing young lives. Projects close to the hearts of our listeners and the communities in which they live.