Ben & Kirsten's First Week: Behind The Scenes
Waking up Wiltshire weekdays from 6am - Heart Breakfast with Ben & Kirsten.
From kids' TV to waking up Wiltshire - how did Kirsten arrive at Heart Breakfast?
Tuesday: Kirsten experiences a rather awkward job interview...
Recently Played Tracks
4pm - 7pm
Text 'WILTS' to 82122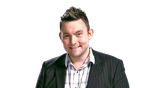 Stay tuned...
Now playing: The best feel good music