Big Town Showdown Winner
After 15 weeks, 75 contestants and 750 brain-busting questions, we finally have a winner!
One man managed to answer all ten questions correctly in just 36 seconds, and no-one managed to beat him.
The cleverest, brainiest, most super-intelligent person in the whole of Wiltshire is...
Aiden from Steeple Ashton!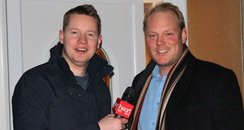 Producer Carl surprised Aiden on his doorstep, along with his local landlady, Father Christmas, Aladdin and Princess Jasmine, and a ten piece choir!
Big Town Showdown returns for 2013 on Monday 14th January. Could you put your town or village top of the leader board? Enter here!