See Robbie Live At Wembley
Want to see Robbie Williams live at Wembley on Friday 5th July, supported by Olly Murs?
Listen next week to your brand new Heart Breakfast with Ben Atkinson and Kirsten O'Brien!
To win, all you need to do is entertain Wiltshire and show us your hidden talent!
It could be singing, doing impressions - anything you can do to get us smiling in the morning! Have a listen to Tracey and Christine entertaining us...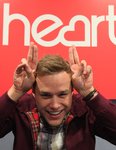 Every morning, we select two callers to entertain us in 15 seconds. Then it's up to Wiltshire to decide whose talent was most entertaining. If it's you, then you'll win the tickets!
Fancy seeing Robbie live? Check the rules, then text WILTS and your name to 8-21-22 (lines open between 7:40am and 8am).