Help Keep People Warm This Winter With Gloves For Subs!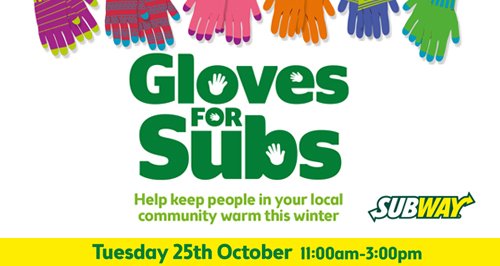 Subway need you to help keep people in your local community warm this winter. On Tuesday 25th October between 11:00am and 3:00pm, if you donate a NEW pair of gloves to a participating Subway store, you'll get a 6-inch Sub and a drink for only £1!
You'll be making a real difference to your local community as well as getting a tasty discount on a Subway! The gloves will be distributed via the following organisations:
Bradford Day Shelter (Bradford), The Haven (Bridlington), Harbour Place Day Centre (Grimsby), Harrogate Homeless Project (Harrogate), The Cathedral Archer Project (Sheffield).
The Lighthouse (Scunthorpe), Hope Community Services (Worksop).
The Rainbow Centre (Scarborough), The Welcome Centre (Huddersfield), Arc Light (York), Hull Harp (Hull), St Anne's Community Services (Leeds), Shiloh (Rotherham).
Riverside Homelessness Outreach Services (Doncaster).
Thank you for helping to make a difference!
Donate a new pair of gloves to a participating SUBWAY® store between 11am and 3pm on 25/10/2016 to be eligible to receive a 6-inch Sub and a 16oz (455ml) dispensed drink for £1.
Not valid for double meat, double cheese or any other extras. May not be combined with any other offers or discounts. Participation may vary.Limited to one per customer, per visit.
The gloves will be distributed via organisations shown. Go to www.subway.co.uk/vouchertermsandconditions.aspx to check which stores are participating. All third party trademarks are the property of their respective owners. SUBWAY® is a Registered Trademark of Subway IP Inc. ©2016 Subway IP Inc.