The White Rose Giving Tree Christmas Toy Appeal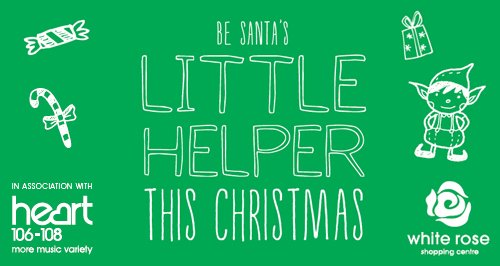 Be santa's little helper this Christmas
This festive season White Rose need a band of merry helpers to make a magical Christmas for local children.
The White Rose Giving Tree will be in the centre from 21 November to 18 December. Please take a tag from the Heart Angels and donate a gift to a child in need this Christmas.
As if that warm fuzzy feeling wasn't enough, the first 500 people to donate will get £10 to spend at White Rose Shopping Centre in January 2017
Spread the joy at White Rose Shopping Centre from November 21
Monday – Friday 09:00 – 22:00
Saturday 09:00 - 20:00
Sunday 11:00 - 17:00
Once you've bought your gift we will ensure it's delivered safely to our two chosen charities Yorkshire Children's Trust and Kidz Klub.
Yorkshire Children's Trust

Yorkshire Children's Trust are a small local charity based in the heart of Yorkshire. It was set up by Simon Widdop after his own daughter was diagnosed with Leukaemia at only five years old.
Despite being told on three occasions that his daughter would not make it, she pulled through and is now in mainstream education despite being left with life limiting conditions.
Yorkshire Children's Trust doesn't receive any Lottery, NHS or Government funding so relies on the great local Yorkshire people to provide their support to continue to help local children with medical equipment or treatment, essential home modifications, hospital transport costs or a short family holiday like you or I would enjoy.
By donating a Christmas present you are helping to put a smile on the face of a child in Yorkshire who may not otherwise receive a gift, or may be in hospital over the Christmas period.
For more information for Yorkshire Children's Trust click here

Kidz Klub

Kidz Klub is a community-based, children's charity working with children in some of Leeds most deprived and disadvantaged areas.
We provide safe, fun and energizing spaces and activities where children can find belonging and community.
Relationships are at the core of all we do.
Each child who attends our activities receives a weekly home visit where strong relationships are built on equality and trust. Kidz Klub is about bringing fun, hope and transformation to children, families and communities in inner-city Leeds. Our vision is to develop healthy and transformative relationships. Encourage children to have the confidence and hope to cultivate and follow their dreams. Be inspired to be agents of positive change, working together with others to transform their community from the inside out
For more information for Kidz Klub click here

PLEASE NOTE ONLY NEWLY PURCHASED PRODUCTS WHICH ARE SEALED OR WITH LABELS STILL ATTACHED WILL BE ACCEPTED
THANK YOU

Click here to see full terms and conditions