A Festive Treat From A Yorkshire Fish And Chip Shop
5 December 2017, 12:00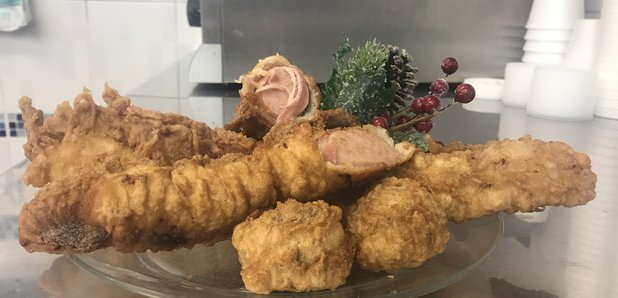 A fish and chip shop in Yorkshire has starting cooking up a new festive treat for Christmas.
A foot-long battered pig in a blanket.
Penny Hill Fisheries in Hunslet serve it up with two deep-fried stuffing balls and a gravy topping.
Matthew Wilson is the owner of the fish and chip shop, he thinks it's the biggest pig in a blanket in the UK.
The mini Christmas dinner costs £3.50. And you get a foot long sausage wrapped in smoked, streaky bacon, seasoned, rolled in ground rice and deep fried in batter. Along with the stuffing balls and gravy!
He's told us there are no vegetables involved: "We didn't want to spoil it with anything that people might not want to eat. The firm favourites on a Christmas dinner were pigs in blankets and stuffing, so we thought we'll just stick to what people definitely want."
He says he's not counted the calorific content to a fine degree, but he thinks it'll be over 1000 calories because it's such a big meal.
But its only being served up until 22nd December - Matthew's having Christmas dinner at his mother in law's - probably with pigs in blankets.