Fundraising Campaign to Help Veteran Walk Again
14 November 2017, 06:00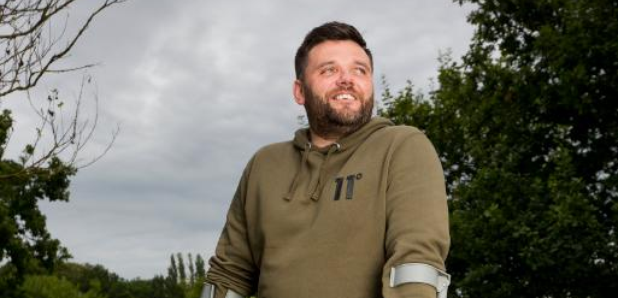 An army veteran from West Yorkshire who had his leg amputated after a parachute jump while training in Cyprus, is fundraising to have surgery that will help him walk again.

36 year old Michael Clough, who served in Afghanistan, needs to raise £72,000 to pay for pioneering surgery in Australia.
His leg was amputated in 2015, three years after the accident. Michael had developed a severe bone infection called Osteomyelitis which left him in severe pain and put his life at risk. He's been given a high-tech prosthetic leg but is unable to wear it because he suffers from complex regional pain syndrome (CRPS) which causes excruciating pain.
Since his leg was amputated, Michael gets arod on one leg with crutches and despite the pain he's in, continues to work as an account manager for a major company.
Michael said: "It was explained to me at time of amputation, there was quite a significant chance my pain would transfer into the stump. But it's not the same type of pain. The pain I had before was there physically all the time even when my leg wasn't being touched. The pain that I have been left with is brought on when my residual limb is touched or put under pressure.
In Australia, he could benefit from an innovative procedure called osseointegration which is not available on the NHS. It involves implanting a titanium rod in the bone which protrudes through the patient's remaining leg or stump. An adaptor is fitted onto the implant and then attached to the artificial limb. There is no need to wear a socket and it provides a good fit with greater stability and control. Michael will finally be able use his high-tech leg to walk again.
A trial of the technique has been made available to some veterans in the UK, but Michael wasn't able to take part because he didn't meet the strict criterea.
Michael has told Heart, he is now looking into the remortgaging his home, in case he's not able to reach his fundraising target: "It is the last thing I want to do is ask for help. It is breaking me. But the level of funding needed for this procedure is so high there is no way I can do it myself."
He added: "I think the NHS should fund this treatment. It is available in Germany, the Netherlands. USA and Australia, so why isn't it approved in the UK which leads the world in medical research? We have doctors and surgeons with amazing abilities here."
Michael's Just Giving fund-raising campaign is backed by WoundCare4heroes, a charity which helps veterans with amputations, complex ballistic injuries, burns and other injuries who may need ongoing specialist care and support.
Claire Stephens, CEO and founder of Woundcare4heroes, said "Michael has true grit and is determined to live as normal as life as possible despite the loss of his leg, multiple surgeries and complex pain issues. He is one of those people whose sheer determination in the face of enormous obstacles drives you to support them more. This innovative procedure will be a game-changer for Michael's quality of life."
Michael, who lives in Oakworth in the Yorkshire Dales, said: "To walk unaided is a big thing. I would like to be able to go for a walk in the moors and hills again. I don't want to have this procedure and sit at home. I am doing this (campaign) to protect my career and improve my quality of life. I have 30 years of my working life ahead of me and I hope to do amazing things in both my work and personal life with the ability to walk freely and be independent."
You can donate to Michael's Just Giving Page here.