Vigil for 15-Year-Old Girl Who Died After Car Crashed Into Bus Stop In Huddersfield
12 January 2018, 17:10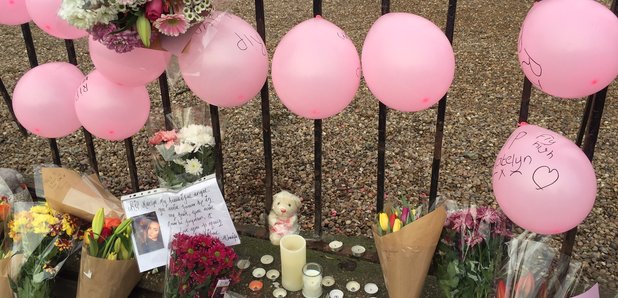 A 15-year-old girl has died after a car crashed into a bus stop in Huddersfield on Wednesday morning.
It happened on Wakefield Road, near to the junction of Broad Lane in Moldgreen around 8.15am.
Katelyn Dawson was taken to Leeds General Infirmary by air ambulance but passed away.
Her family have released a statement:
'We are devastated at the loss of our beautiful Katelyn, and it is no exaggeration to say words cannot describe the pain we are all feeling.
'We want to thank those who have shown such love and support at this awful time, and now ask that we are given some privacy to grieve as we try to come to terms with the magnitude of our loss.'
John McNally, principal of Shelley College, where the teenager was a student, said on Thursday:
'We were devastated to hear the news that Katelyn passed away yesterday and our hearts go out to her family, who have suffered such a tragic and sudden loss.
'Katelyn was a passionate, popular student, who was just starting to realise how much potential she had.
'She loved life and lived it to the full. She loved to dance and was starting to plan her options for when she left school this year. Her loss, at a time when she had everything to look forward to in life, is sad beyond words.'
Mr McNally added:
'We will be supporting students and staff alike over the next few days. They are understandably very upset and we will do all we can to help them come to terms with this loss.
'We will also try to celebrate Katelyn's life, which was sadly cut so short, and the many happy memories we have of her.
'As a mark of respect, we will be cancelling the parents' consultation planned for this evening and a book of condolences has been opened for students to record their thoughts.'
Three other people were hurt in the crash.
A police spokeswoman said a 47-year-old woman was taken to Leeds General Infirmary with life-threatening injuries and is described as being in stable condition.
The 17-year-old was taken to Huddersfield Royal Infirmary with serious injuries but they are not believed to be life-threatening.
The driver of the BMW, a 51-year-old man, was also taken to Huddersfield Royal with injuries that are not believed to be life-threatening. He's now been discharged.
A message posted on Facebook by All Hallows Church, Kirkburton, near Huddersfield, said:
'So sad to hear of the sudden, tragic death of 15-year-old Katelyn Dawson, a pupil at Shelley College.
'Katelyn's family and friends are in our prayers.'
The Police spokesman said:
'Officers are appealing for anyone who may have been in the area around the time of the incident and who may have seen the grey BMW travelling before the collision, or who witnessed the collision itself, to come forward with any information.'
Hundreds of people gathered on Wakefield Road last night for a vigil to remember Katelyn. Candles were lit and balloons released into the night sky.