Make 'Em Laugh! Ant And Dec Unveil Hilarious New 'Saturday Night Takeaway' Segment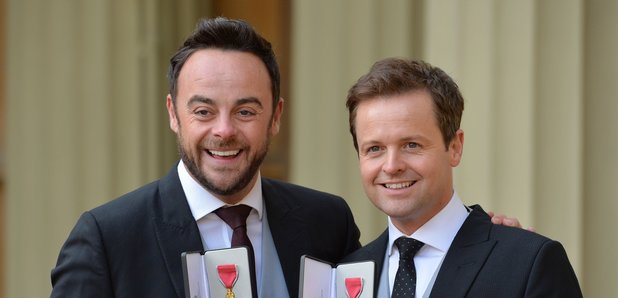 You won't be able to keep a straight face!
The actor Donald O'Connor sang in the classic 1952 musical Singing In The Rain to "make 'em laugh!" and it seems the sentiment has lost none of its appeal.
Because "make 'em laugh" is the mantra that Ant, Dec, Phillip Schofield and Holly Willoughby have taken for a brand new Saturday Night Takeaway Segment. The section sees the stars in a stand-off, as they do whatever they can to make each other laugh with a selection of props and costumes.
The team that laughs the first – loses!
So, understandably, the contestants will do whatever they can to make the other team break down in hysterics. In Phillip's case, this even means a fairly dramatic makeover. Watch the clip below and try to keep a straight face.
In the upcoming episode, Ant also drags up to impersonate Holly, while Dec takes on the role of Phil, complete with distinctive silver 'do. As if that wasn't enough, Holly also paints a rather risqué portrait of Phillip. You'll never look at the Schofe in the same way again!
READ MORE: Ant And Dec Reveal That Prince Charles Gave Them A Big Telling Off


The gang can be seen mucking about on Saturday Night Takeaway this Saturday (March 18) and there's no doubt that they'll succeed in their bid to "make 'em laugh"!