Ryanair baggage man filmed throwing suitcases at Manchester Airport
21 September 2018, 14:51 | Updated: 21 September 2018, 15:07
A baggage handler was caught acting unprofessionally and roughly towards people's luggage.
A shocking video filmed by a Ryanair passenger shows a baggage handler throwing suitcases into a waiting trolley.
The careless staff member is seen grabbing cases from the conveyor belt and slinging them with the force.
Unaware he was being filmed he picks several items of luggage, throwing each one while a colleague looks on without intervening.
He chucks some of the cases so hard that they fly out of the back of the trolley and land on the floor behind it.
After doing the same thing with five suitcases in a row, he finally decides to go and pick them up to put them back on the trolley.
The film was shot by eagle-eyed passenger Elizabeth Evans, who had returned from Malaga on the Ryanair flight which landed at Manchester Airport on Thursday morning at 9:30am.
Elizabeth, 28, from Bury said: "I'm very angry and shocked. It was a new case. The case is dented and the protective layer has been torn off it."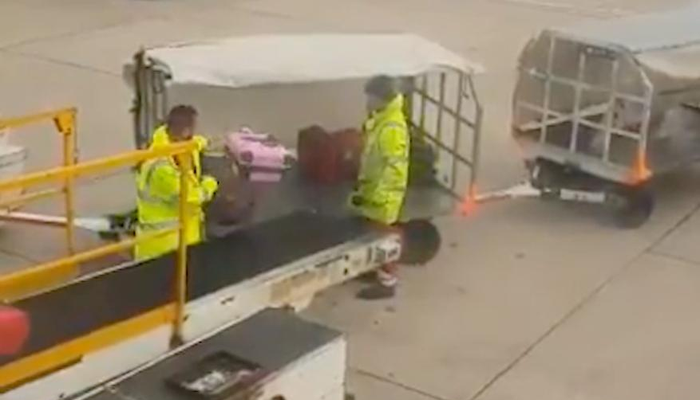 Elizabeth's pink suitcase flies through the air after being thrown by the baggage handler
The video was shared on social media platforms Twitter and Facebook where many people commented on the behaviour of the handler, who is employed by baggage handling company Swissport.
One person said: "Wow no respect for people's belongings at all this is terrible. Could be people's laptops or anything in there worth a lot of money."
Another said: "Hope they chuck his P45 at him in the same way."
And another said: "Absolutely terrible no respect for others property if they dont like the job they are employed to do and do respectfully then LEAVE !! No wonder insurance is so high having to claim for damages to cases and contents ..... shameful!!!"
A spokesman for Swissport said: "We are disappointed by the footage circulating on social media, and we apologise for the behaviour of this individual. "We can confirm we are investigating and will take all steps necessary to ensure this does not happen again."