Appledore Shipyard To Shut
1 November 2018, 10:50 | Updated: 1 November 2018, 12:05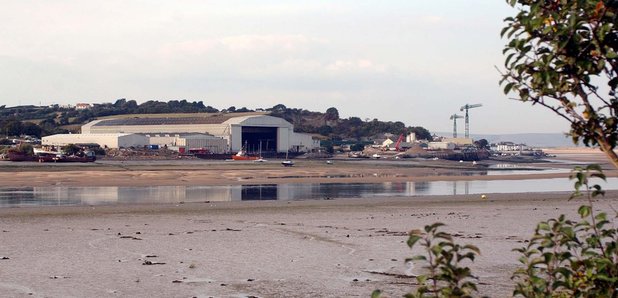 It has been confirmed the Appledore shipyard in North Devon is going to close.
Babcock, who own the site, say they have taken the "difficult decision" to stop operating there in March 2019.
The firm says all 200 workers will be offered the chance to relocate to their other sites like Devonport.
In a statement, Babcock International said: "Babcock's focus is now firmly on its workforce and its determination to protect their employment within the business. To that end, the company will offer relocation opportunities for all 199 Appledore employees at other Babcock facilities, 140 of whom are already on short-term redeployment to its Devonport operations. Babcock very much regrets having to take this course of action and recognises the impact it will have on its dedicated and professional workforce. The company will now engage in a consultation period, working closely with its employees and their Trade Union representatives during this difficult time."
It comes just days after workers took a petition to Parliament urging MPs to step in and help keep the site open.
The government had offered a £60 million deal to keep Appledore open but the firm has taken the decision to close it.
Unions have described the move as a "hammer blow" to the workers and the Devon economy.
Unite's regional officer, Heathcliffe Pettifer, said: "The first reaction is one of dismay and anger that such a dedicated workforce at this historic shipyard should face such an uncertain future. We feel that the government could have done much more to secure future work for Appledore and that defence secretary Gavin Williamson wrung his hands in true Pontius Pilate fashion when he said it was a commercial decision for the company. We are asking for this to be raised as a matter of urgency in the House of Commons."
Jake Mclean is a GMB union representative at Appledore. He said: "This news is a devastating blow to the workforce and the local community. We want answers from the Government and Babcock about the package that was offered to save the yard."