Barnstaple: Half Heart Baby Fights For Life
10 February 2015, 06:00 | Updated: 10 February 2015, 16:11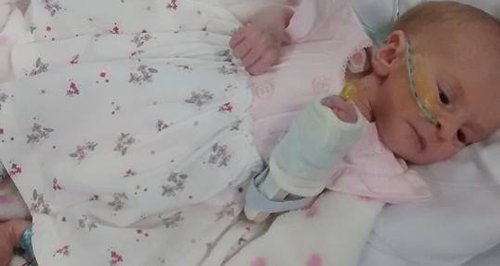 The Devon parents of a 8 week old baby girl, born with only half a heart, are asking people for help.
Doctors had given baby Ruby a 10% chance of surviving with her hypoplastic left heart syndrome, but since she's been transferred to Bristol's Children's Hospital there seems to be more light at the end of the tunnel.
She was only three and a half pounds when she was born, and although she gained enough weight for the first operation she still needs to put on a few more pounds before she can have the three more she needs.
Mum and Dad - Kayleigh Gibbons and Stefan Page - are from Barnstaple, and until now have been travelling up from North Devon to Bristol every day because there were not enough family rooms at the hospital.
They've now got a place at Ronald McDonald House but are struggling to see how they can afford to help Ruby with her disabilities for the rest of her life.
Kayleigh's telling Heart "We need to make sure she's got a respiration monitor to check on her breathing and there's all this equipment that costs thousand of pounds that we'll need to help her survive."
Ruby's future's uncertain at the moment but Kayleigh's been reassured even with her heart defect she could live until she's 45 years old.
"If she's survives to five years old, she will then make it till she's at least fifteen, and if she passes fifteen then she'll go on to live till she's 45 years old because the oldest person with the condition is 43 year old."
Now a fundraising campaign's started to fund the specialist equipment they'll need to help Ruby if she makes it home - you can visit it by clicking HERE.