Barnstaple: Fake 'Frozen' Goods Found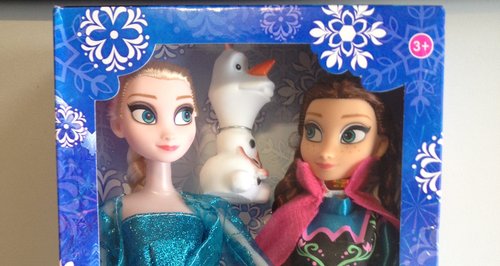 Devon and Somerset Trading Standards warn over the dangers of fake Disney 'Frozen' merchandise.
Hundreds of items of counterfeit 'Frozen' merchandise, including dolls and costumes, have been seized in Barnstaple and Ilfracombe by Devon and Somerset Trading Standards service.
Investigations are continuing, but the authorities have issued a warning, alerting people to the potential dangers.
Concerns growing that children could be playing with these potentially dangerous dolls or wearing costumes which are highly flammable.
Councillor Roger Croad, Devon County Council's Cabinet Member with responsibility for the Trading Standards service said:
"We're asking people to exercise caution when buying 'Frozen' merchandise, and to look out for some of the tell-tale signs that could indicate that a product is counterfeit; such as missing Disney logos on the labelling, a suspiciously low price, poor quality and labels that appear to have been poorly copied."
Counterfeit merchandise is usually untested, poorly made and untraceable.
The counterfeit Frozen toys have been found to contain high levels of plastic softening chemicals called phthalates.
If toys containing these chemicals are chewed, they can lead to damage to the reproductive system and an increased risk of asthma and cancer.
Counterfeit items could also be highly flammable, as well as presenting choking hazards. Last year parents were warned about lethal fake Frozen children's snap bracelets which could slash wrists.
The dangerous bracelets were discovered when a suspicious mother cut one open and found that they were made from a metal measuring tape.